As we age there are inevitably fewer and fewer "firsts." At some point we have done, at least once, pretty much everything we wanted or needed to do.
But I am proud to say that I just experienced a big one – my first Democratic Party Ward Meeting. Roberto and I decided in these times of "What can we do?" to start at the grass roots and see what this work-in-progress called democracy is all about.
We pulled into the community center parking lot early and were surprised at the number of cars. And inside there was a mob. We greeted friends, got in line to be certified and receive our ballots, and found seats.  In a few minutes there was standing room only and the current ward chair addressed the crowd.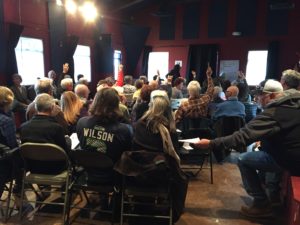 "My name is Terry Rivera and I am the chair of Ward 4a. I have been the chair for 54 years…" At this point I was sure I had heard wrong but Roberto confirmed, 54 years. "My father was ward chair and then I took over. I want to welcome everyone but also I can't believe what I'm seeing – so many people! Usually I have to bring my children and grandchildren to make a quorum of six!"  Her expression was a mixture of pleasure and shock, with a trace of apprehension.
Read More