For the last 10 days I have been immersed in the medical world. Roberto had a total replacement of his right knee, and given the state of hospitals these days, they sent him home that same afternoon. From that moment he was mine. We went home with bags of supplies – six different pills, two of them opioids, two kinds of dressings, ace bandages, compression stockings, syringes, alcohol swabs, waterproof pads, two styles of ice packs, elastic straps with the strongest Velcro I have ever met, plastic containers of various sizes and shapes, including the one for disposal of used hypodermic needles – and sheaves of instructions for patient care and an equal number of warnings about what could go wrong.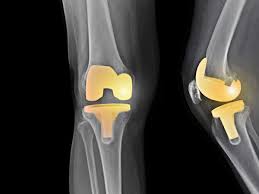 It was frightening to find myself in a profession that I had not chosen. Nursing, in fact, had never even been on my list. I told Roberto that I would do the best I could, and he pledged the same, to do the best he good as recovering patient. But what if something bad happened on my watch? For instance, what if he falls? On Day 2, with me watching, he fell off his crutches, landing backwards, thank God onto the carpet. Or, what if he overdoses on opioids? On Day 4 I lined up the oxycodone pills by the bed, one to be taken at 10:00 pm, the next one at 2 am. Understandably fuzzy-headed from the drugs, he took them both at 10:00 p.m. In a panic I called the National Poison Control Center to report an overdose, and was on hold an agonizingly long time while they did some research, finally assuring me that this was "probably" not dangerous. What if I forget to give him medications on time? That has happened more than once. Sometimes, I confess, sometimes I don't.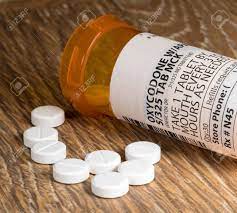 I'm happy to report that despite the mishaps he is doing really well. His physical therapist who comes to the house three times a week says he is right on track and making good progress. The occupational therapist was happy to spot a throw rug that she could condemn and remove, but saw no need to return after Roberto demonstrated skills on the walker and the crutches. At the two week mark we will return to see the surgeon, have x-rays taken and, and for me to receive my care giver commendation… not really, but it will be a milestone. I will feel more or less off duty after that.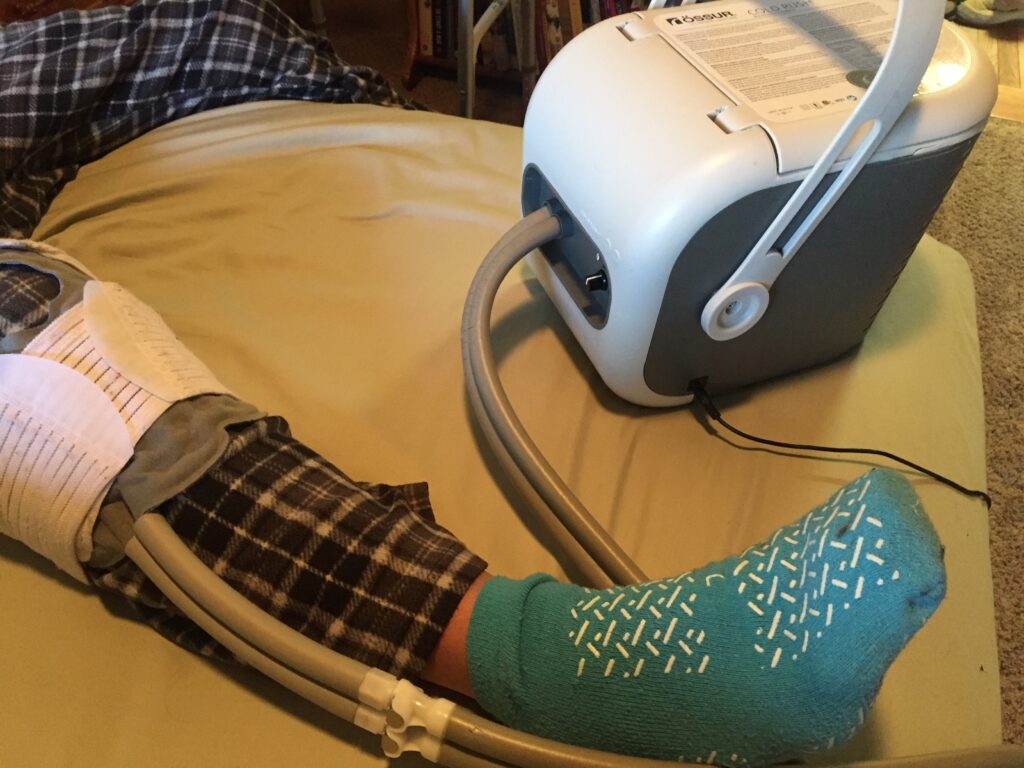 There have been important revelations along the way. Top of the list is how lucky we are. We live in a place where this kind of surgery is possible, giving Roberto a future with a pain-free knee. The medical professionals and therapists have been not only highly skilled but encouraging and compassionate. I have made phone calls with stupid questions, the same question more than once, and always been reassured with kindness and patience. I am grateful they chose the career they did, because they are really good at it. And we are so lucky to live in this little community nestled outside Santa Fe, with neighbors who are generous and creative in the ways they support us.
I've also learned that caring for a loved one is complex. I'm not the outside skilled caregiver who comes in with expertise and authority to assess and give instructions. I'm the partner bringing a ton of baggage – some wonderful baggage, some not so wonderful – to the situation. I can dish out lots of love, but I can also lapse into fussing and micromanaging, which is not helpful.
It is also impossible for me not to identify keenly with Roberto and what he is going through. The morning after the surgery I woke up with an aching right knee. There were other symptoms that I mimicked that I would rather not talk about. And when I am talking to a nurse or therapist on the phone about how Roberto was doing, I find myself saying, "We're taking 5 milligrams every 4 hours," or "Now that we've finished taking the anti-biotic, we're not nauseous anymore." It's ridiculous, but I can't help myself. We're in this together, doing the best we can.