I have been irritable all day. This morning I saw road rage where it probably didn't exist, I dropped a bag of apples at the grocery store and was sure it was someone else's fault, I was suddenly no longer amused by the radio coverage of the political scene, but enraged. Random thoughts of violence are roaming my mind like predators. Where is my usual tolerant, easy-going self?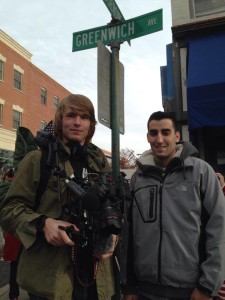 I believe I was kidnapped by a rough cut documentary I saw last night. "Once a Marine" is a brilliant one-man creation by Stephen Canty, a veteran of the Afghan war. Having enlisted when he was 17 and serving two deployments, he found himself back home, like so many veterans – past and present, and future, I'm afraid – depressed, angry, confused, and misunderstood.
In an effort to understand himself and what had happened to him, he toured the country visiting and interviewing guys he had served with. These interviews are the centerpiece of the film, along with footage shot during firefights by fellow Marines.  Canty lets the vets speak for themselves, and because he is the one interviewing them, drinking beer with them, reminiscing with them, they are remarkably honest. To see these trained "warriors" struggling to find words to describe the current battle they are waging as returning vets was so moving. Whether or not they found the right words, their courage, their vulnerability, their determination to communicate said it all.
Hearing those young vets opened my eyes and broke my heart. To be trained to kill – blunt but true – and then come back to this peaceful homeland is disconcerting. You joined as a young man for a lot of reasons — escaping trouble, patriotism, family legacy – but an underlying drive was probably adventure, excitement and the chance to play with weapons. You are glad you didn't die, although sometimes you're racked with guilt. You have been living one long adrenaline rush and you miss it. You want to talk about the horrors you saw, and the horrors you committed, but you don't want to worry your mother or frighten your wife or alienate your friends. You miss your buddies for they are the only ones who really understand. You don't know what to say when someone says "Thank you for your service" because that person doesn't really have a clue, and because you don't feel like a hero or even a patriot. Everything you did over there was for your buddies, and if you lost one you are devastated. You turn to heroin or alcohol, which maybe you survive and maybe you don't.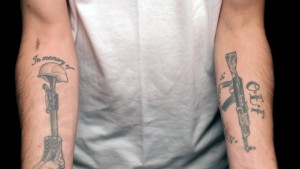 Three of the interviewed vets, including Darren Doss (above), were at the showing and spoke afterwards. It is three years after the interviews and although they will struggle forever with these scars, they have their lives back. It was such an honor to meet them and thank them…for their courage in battle and in life.
My husband of 28 years is a Vietnam combat veteran (Marine) with PTSD. I know what it is like to be the partner. I have learned how to be patient, how to listen even if there are no words spoken. I know that he needs to sit with his back to the wall in a restaurant. I know that when we go into a movie theater he is making sure he knows where all the exits are…just in case. In fact, I would say the running subtitle for his daily life is "just in case." And I know that he is still, inside, the kind and gentle person he always was. What he went through in that year of combat changed his life but not his soul.
This morning I asked him if he thought about Vietnam every day, as one of the vets in the film said about his time in Afghanistan. "Yes, every day. I can't think of a single day in 50 years when I haven't thought about it."
I felt like weeping, and then I did.