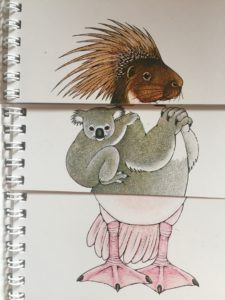 I was going to write a post that was amusing with a little bit of a lesson at the end. I would start with the observation that for me these days dressing for success only applies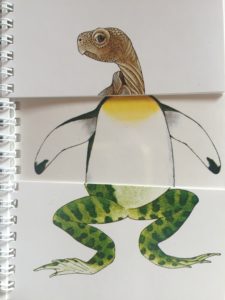 to the waist up, as all my work is done via zoom. Just the other day, I facilitated a zoom meeting of 30 people. I wore a black knit top, floral silk scarf, silver earrings, hair in a French roll….and sweatpants. A couple of weeks ago I was interviewed for a new project online – crisp white blouse, light blue sweater, turquoise earrings, hair pulled back with two combs….and… you don't need to know. It reminds me of those flip books I had as a child, where the pages are divided in threes – top, middle and bottom – with an animal on each page. When you move the pages you may end up with a monkey head on a giraffe body and platypus feet. Or maybe each page was a different worker, and you could flip to an astronaut head, a ballerina body and lumberjack boots.
I would then recall my early professional days and my struggle to look like a mediator, having no idea what that meant, but feeling sure that I needed to look different. Into the depths of this insecurity walked Merle Lefkoff, a seasoned and highly successful mediator who had just moved to Santa Fe from the Carter Center where she had been doing important international work. We had a coffee date. She was tall and blond and wore a snappy businesslike outfit — trim, charcoal gray skirt, matching jacket, white silk blouse, smart scarf, simple gold bracelet and heels. She carried a stylish brief case. I would remember how I studied her carefully, how she opened her tool box of fancy techniques and how I gobbled them up.
I would confess that I ran out and bought a Merle Lefkoff outfit and briefcase. I couldn't do anything to make myself tall and blond….but I hoped that wasn't critical. I strode into my next meeting channeling Merle. I pulled out of Merle's tool box a technique that I didn't quite understand, but I was confident in my new Merle-ness. Although things weren't going that well, I stuck with the Merle program, sure it was the answer. Until finally it dawned on me…I was not and never would be Merle Lefkoff.
Here I would deliver the punch line: I came to see that all I had to offer those in conflict was myself — inside and out — my compassion, my vulnerability, my honesty, my sense of humor, and yes, this body and this wardrobe. The work we do is above all personal. Parties want a mediator who is a genuine person, someone who knows herself, someone they can trust. They want authenticity. And I would conclude that since then my practice has become incredibly simple.
That was my plan for this month's post. I would have titled it "Dressing for Success." Pretty nifty, huh?
I was actually on my way to my computer to write it when I saw a headline from the NY Times on my smart phone: "The Top U.S. Coronavirus Hot Spots Are All Indian Lands,"( NYT, 5/30/2020).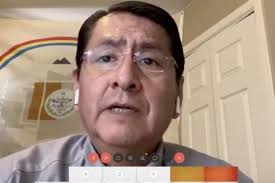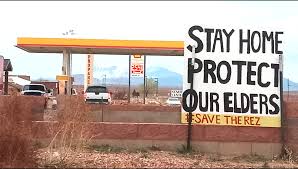 I sat down and read it. If Indian nations were states, the top five in positive cases per population would be Indian states. New York would be number 6. There has been a lot of coverage lately of this crime – the condition of Indian country —  which is a result of decades and decades of abuse, neglect and disrespect. How else would one-third of Navajos have no running water, no electricity and limited broadband, not to mention unemployment nearing 40% and alcoholism and suicide rates many times the national average? These statistics are better for  some tribes and worse for others. I am glad that those around the country are beginning to understand what has been painfully clear to those of us living in, or working with, tribal communities. Jonathan Nez, Navajo Nation President, has appeared on national news programs, including Amanpour, eloquently describing the challenges facing his people, while emphasizing their strength, ingenuity and resilience. Their current plight is not of their making. The pandemic has shone the spotlight on a shameful inequity in this country. I desperately hope that this awareness will lead to reforms and new opportunities for all Indian people. Let's not go back to normal on this one.
So, here is my concluding insight for this post: This is what it's like these days. I am amused by my new work life, I am reminded of a significant memory from long ago, and I am hit with the ugly truth that the pandemic reveals. And it's not even noon. I will go through this cycle countless times before bedtime, and even into my dream life. That's what it's like these days.
A footnote. After I wrote this post the country exploded in grief and outrage, expressed peacefully and destructively, over the death of George Floyd. Hopefully this is a step to a more just society. The future is uncertain and this, too, is a big part of how it is these days.