In early March we took a New Mexico road trip. We had to give up a trip to Frankfurt and Rome to visit my sons for obvious reasons, but wanted to take advantage of the big hole carved out in our schedules. It was a wonderful trip, especially in retrospect, because as soon as we got home all hell broke loose.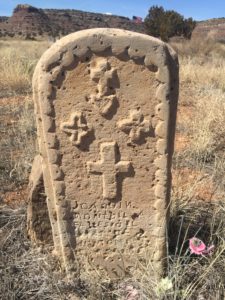 But back to that innocent time of four weeks ago:  Our first stop was Puerto de Luna, a tiny place on the Pecos River in the east part of the state. This was the home for  Roberto's relatives before they fled to Albuquerque during another crisis, the Dust Bowl. We wandered the camposanto (cemetery) and found gravestones of those who were surely great great somethings. The names were so evocative, the stones so varied, some slick and polished, some hand hewn, maybe in a hurry, maybe with no alternative. It was eerie and powerful to stand there knowing that below us was the DNA of Roberto's people, whoever they were. And what would they think of us, standing there decades, a century, later?
Next destination was Inn of the Mountain Gods, a resort on the Mescalero Indian Reservation in south central New Mexico. Out our window was snow-capped Sierra Blanca and a small lake ringed with huge Ponderosa Pines. We stayed an extra night just to soak in the luxury.
Read More