"Just tell us the truth." He was a 16-year-old high school student, and he was talking to the National Park Service. The Park Service had invited 30 students from different parts of the country to reflect via zoom on the Manhattan Project. What did this generation know about the Manhattan Project? Was it relevant to their lives today? What information did they need about this project that changed the world?  
The agency was seeking guidance on how to tell the story of the Manhattan Project at the new Manhattan Project National Historical Park, located in three separate locations: Los Alamos, NM, Hanford, WA, and Oak Ridge, TN. These three sites were critical in the development of the first atomic bomb and the birth of the nuclear age. Each played a role in research, processing materials and building the weapons.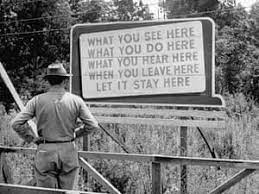 Secrecy had shrouded the project in order to keep enemies in the dark and be able to deliver the ultimate weapon without warning. The secrecy continued after the war to some extent; the true impacts of the research, development, testing and detonation of the bomb were slow to come to light. Many feel those impacts are still not understood and respected. My job as facilitator was to help those voices be heard through a series of zoom sessions with Park Service leadership. One of those sessions focused on the next generation, since they are the ones who will carry this significant moment in history into the future.
(more…)
Read More