OK, I'm going to lose some of you, hopefully not for good. Just bear with me. I think there's something important here, although I'm not quite sure what it is.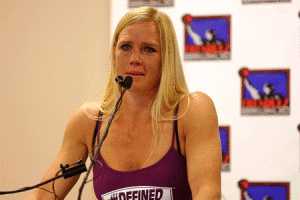 Living in New Mexico, I have been following Holly Holm for years. She is what they call a mixed martial artist, and at 135 pounds, she competes in the Ultimate Fighting Championship (UFC), Bantam Division. An Albuquerque native, she was trained as a boxer – including kick boxing – and is known as the "Preacher's Daughter" in fighting circles. I have had a soft spot for this tough as nails athlete because of her straightforward, honest demeanor, and because she cries a lot. At almost every press conference or pre- or post- fight interview she cries – because she loves her supporters so much, because she really hopes she can do well and make everyone proud, because she is thinking about her family, or for no seeming reason except that her emotions are close to the surface. I cry a lot, too, and I have always identified with this weepy warrior.
On November 14, the day after the terrorist attacks in Paris, Holly took on the world UFC champion Ronda Rousey in Melbourne, Australia. I saw her interviewed before she left, fighting back tears, and gave her a silent sendoff. She was the underdog, 20-1 by some odds, and it seemed unlikely that she could win. In pre-fight interviews Ronda was full of trash talk; Holly expressed admiration for her opponent and said she felt honored just to be able to fight her. A lovely, humble native New Mexican going off to battle.
And then it happened. I didn't see the fight but that night before going to bed I looked on my smart phone for the results. She won! The first report said she ended the match with a "powerful kick to the head" in the second round which knocked Ronda Rousey the champ to the floor. I ran to tell my husband. "Holly won with a powerful kick to the head! She knocked her cold!" I was so excited, and it lasted through the next day and the next. "A powerful kick to the head" kept running through my mind. And I would smile and repeat it under my breath — a powerful kick to the head. I even announced out of the blue over lunch at the kitchen table: "She nailed her with a powerful kick to the head" and my eyes were on fire. My husband looked a little concerned.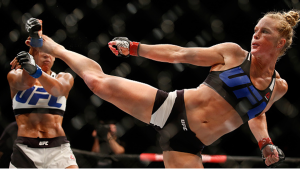 Indeed, what was this about?  Why was I, a professional mediator and peacemaker, so excited, enchanted even, with one human pummeling another nearly unconscious in front of 56,000 screaming Australians? I had to think about that. And then I realized that the other thing that I had been struggling with for the past 48 hours was the attack in Paris. Helpless and panicky I had watched news report after news report of the devastation of lives, ordinary lives like my own. I identified keenly with the witnesses who had escaped and were shaken to the core. Something deep in me wanted to give those terrorists a "powerful kick to the head," to send them flying, crashing to the mat, never to get up again. Holly did that for me.
And so I thank Holly, my home girl and fellow teary-eyed one, for helping me through these hard times. I bet it felt really good to deliver that "powerful kick to the head."