On February 22 of this year the email program on my desk top simply went on strike… or retired … or died. It refused to send or receive, or to let me into the dozens of folders where I store emails – both personal and professional. I receive about 75 emails a day and the frightening thing is that usually 30-40 of them are relevant and need to be read and/or responded to. I also daily dig into the folders to remind myself of recent correspondence with a client, to retrieve an attachment I need, or to enjoy a memorable message from a grandson. I was eager to get the problem fixed. My always cheerful computer guy came in a few days and installed himself in my desk chair. He emerged an hour later.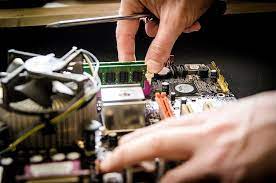 "Is it fixed?" I am eager to settle in and catch up.
He hesitates, "No, not yet." He is packing up to go. "I need to think about it."
"Oh? Think about it?" I have never considered computer repair to be in the "thoughtful" fields, like philosophy. But what do I know? Clearly nothing.
"Yeah, just need to think about it." He flashes a big smile and leaves.
In a week or so he was back. "Did you think about it?" I asked hopefully.
"Uh-huh," and he smiled another big one.
He took his place in front of the thought-provoking machine. I explained that actually the biggest problem was that I needed to be able to access those old folders. "That's what I really care about. I can always install another email program to send and receive," and I left him.
An hour later he appeared, bigger smile than usual. "It's fixed! You can send and receive." I rushed in to test it out. Indeed I could send and receive an email, but…. all the folders that used to occupy the left side of the screen, where I squirreled emails for archiving, nostalgia and future reference were gone. Gone. I couldn't believe it.
"Where are my folders??"
I don't remember his exact words. But the reality was that yes, now I could send and receive, and yes, the folders were all gone, and no, they did not exist in the cloud or on the hard drive or in the little saving gizmo attached to the computer that updates and saves continuously what is in the computer. They were gone. Forever. My email house had burned down. There was no bringing it back.
For the next several days I stood in the smoldering ruins of my email life, kicking at bits of debris, grasping for glimpses of what used to be. I realized I had lost my history of mentoring dozens of eager, young people, decades of names, inquiries, exchanges, conversations about how to handle a challenge, how to enter the field, how to keep from burning out. I sent my love to each one, now nameless, and wished them well. I mourned the loss of the folder chronicling a four-year-long mediation to re-write the tribal consultation policy for the Department of the Interior, one of my most satisfying jobs. A few names and faces floated past, a flash of the draft documents we worked on. But, I reassured myself, the end product, the policy itself is lodged in the policies and practices within the department. Then there were the precious emails with my grandsons. Those were the ones that made my heart warm just at the sight of the sender's name. I ached to see them again, a history of very special relationships. Why hadn't I printed them? I could have them on good old reliable paper (which of course would have burned in an actual fire).
Now, a few months later, I wonder what I would have done with all those folders of tens of thousands of emails. I was hoarding them for the future, but why? Sure a few of them were useful to retrieve a date, a document, an exchange related to work. The personal ones I imagined going through when I got old, really old, and reliving great (and not so great) moments in cherished and challenging relationships. I admitted that in some cases I was saving emails as some kind of evidence that I was right, that I had been wronged in a certain situation. I was leaving a trail for any sleuth that would come after me wanting to get to the "truth" of the matter. How ridiculous is that? Is that the legacy I want to leave behind? And, of course, the reality is that anyone opening up that email program and seeing tens of thousands of emails stored in folders would hit the delete button asap and "burn down the house" anyway.
I'm not quite at the point of thanking the smiley computer guy, but I am beginning to see a lesson here about liberation. Rather than clutching at this completely unmanageable mass of words, isn't it better to just honor whatever fragments, snippets, moments, highs and lows that come to the surface of my crowded memory? I realized I have a perfectly good filtering and filing system in place. My mind and heart are storing as best they can what really matters. And the good news is that storage facility will last my whole life.