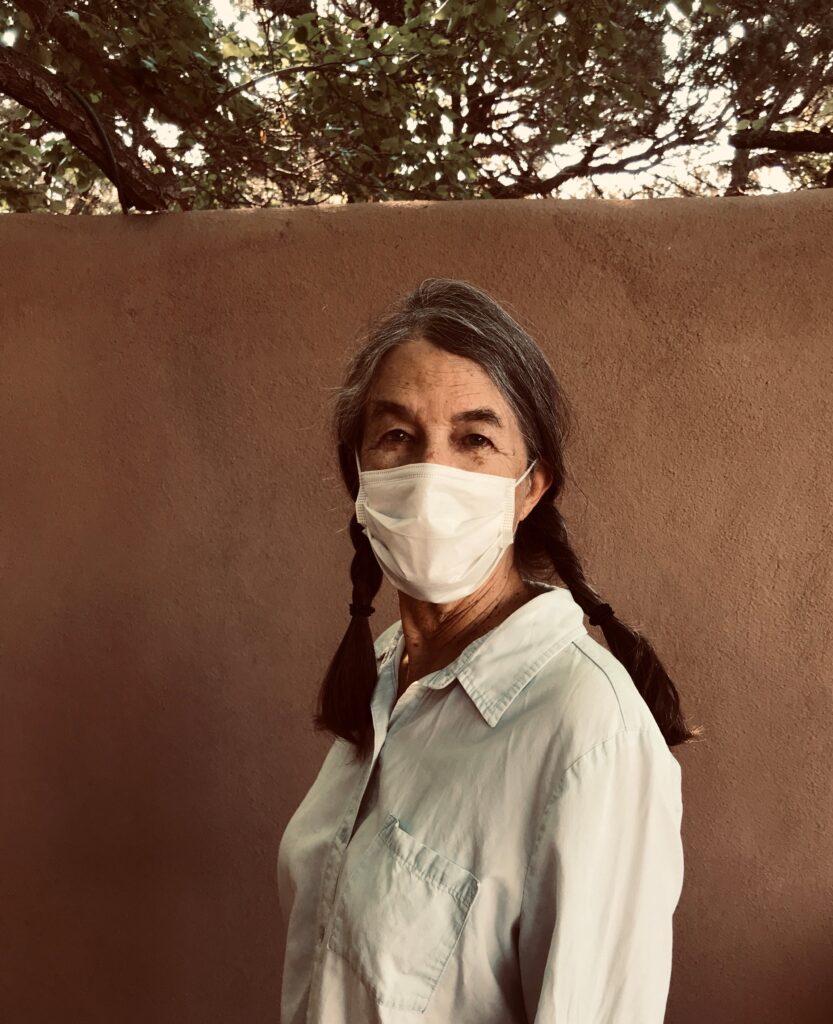 Hair grows. Without a hair cut I have returned to braids. I wore my hair in braids through the fourth grade more or less, including on a trip to Europe when I was 9. I have a picture of me in a wine grotto in France, glass in hand, eyes a little glazed, and yes, braids. My father's aunt had left him $10,000 – a lot of money in the 1950s – and my parents decided to blow it all on a six month trip to Europe, four of which were spent in Paris. It was one of their best decisions and I am grateful for it. I have memories of the musty smell of the Lascaux Caves, a train ride through a very long, pitch black tunnel in Switzerland on my birthday, a hangover after a wine tasting in a French grotto, and the Vatican where a pigeon pooped on my atheist father's bald head.
But the most vivid memories are of our time in Paris. We lived in a pension (boarding house). I had my own tiny room. The bathroom was at the end of the hall. I was feeling very grown up and luckily I had a role model, Claire. Claire's mother had died, and she and her father had moved from Canada to Paris. She was deep and mysterious, harboring something that was only to be guessed at. She was very obedient, and her oui-madame was flawless. All the grown ups felt sorry for her; all the kids were fascinated by her. To me, she was the ultimate in glamour. I was 9 and she was 11.
It was hot that spring and Claire and I were bemoaning our wardrobes. We had only wool skirts and jumpers, and itchy sweaters. What we needed were light summer skirts. Claire declared we would make them. She knew how to sew, and equally important, she knew how to shop. We gathered up enough francs for the project, and took the metro to the Bon Marché. It was a long ride, with many transfers. I was in heaven with the glamorous Claire.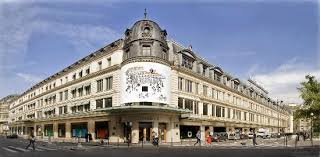 The Bon Marché was huge, high-ceilinged and creaky. The floors were old, dark wood. The racks, the counters, the shelves, the clerks — everything was old and creaky. Claire led me down the aisles to the fabric. We spent a lot of time debating material. I liked green, I said, and that was about all I could offer.  We picked out a green and white checked cotton. The skirts would be spring-like and cool, and so sophisticated. Claire told the clerk how much we needed. Her French flowed, where mine bumped along. The clerk wondered why two little girls would need six yards to make two skirts. They would be gathered, Claire explained, and we wanted them nice and full. The clerk's eyebrows went up as she cut the material.
The material took almost all our funds, leaving us just enough for the metro home. I was ready to go, but Claire muttered an unladylike merde! We forgot the thread, the pale green thread. My mom has white thread at the pension, I said. No, corrected Claire. We need green thread, and we will get it now. My head swam. There would be no metro money. How could we walk so far? How would we get back to the pension?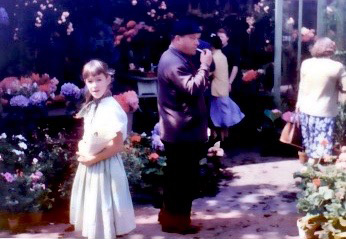 But Claire was on the move, back into the bowels of the store, to the thread section. She stood calmly in front of the vast display of spools, considering each shade of green, comparing it to the oceans of fabric in our bag. This is the right one, she said, plucking one from the rack. She turned to me and looked right into my eyes. She wanted me to perform a mission, I could tell. I knew I would do it, whatever it might be. As I stared into her eyes, she looked down at my gray flannel jumper with the big patch pockets on the front. I didn't need to look. I knew they were there. My eyes opened wider in disbelief. She nodded imperceptibly, and dropped the spool of thread into my pocket.
Claire turned and with perfect poise, walked out of the store, tossing a merci beaucoup over her shoulder to the doorman. Trying for the same confident air, I strode out behind her, the spool bouncing in my pocket. The doorman tipped his hat, but I looked straight ahead. I was filled with both excitement and an unnatural calm, the calm of the criminal perhaps. With the glamorous Claire I was untouchable. I caught up to her and she gave me a glance and a nod. I felt great. I gave my braids a little toss and we headed for the metro.