I don't know why this tickled me so much, so I thought I would share it with you and see if together we can figure out why.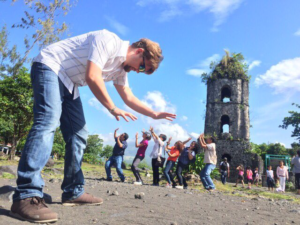 My son Nathan lives in Manila and works throughout the Philippines for USAID (Agency for International Development). It is the arm of our government that tries to do good in the world, funding roads, water, health and human services projects in countries that are struggling. He worked in Palestine before being transferred to Manila for four years after which he will probably be sent to a hardship post like Afghanistan. But I digress.
He sent me these photos recently and this is the story. He went to evaluate a project in the city of Legazpi in the Bicol region of the island of Luzon. He and the local folks working on the project visited a nearby volcano called Mayon. There were a couple of guys there, Nathan said, who were available to take staged photos of tourists. There wasn't any advertising, no hustling, they just made it known that they could take a photo with your own iPhone that would amaze and amuse friends and family. Nathan's local colleagues told him that they hoped for a tip and that was all. Intrigued, Nathan agreed and they choreographed and snapped these three photos.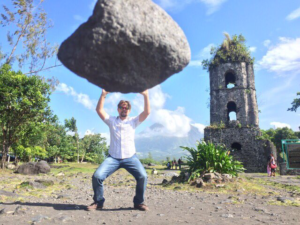 Of course they are amusing, done with nothing but the clever use of perspective. But what delights me is the ingenuity and creativity of this bit of entrepreneurship in a poor remote corner of the world. With no capital, no equipment, nothing of their own but their wits, these guys are making money – maybe a living, says Nathan. There is no extraction of resources, no waste, no impact to the environment, no contribution to greenhouse gases, no exploitation of workers. And the product they are selling does nothing but make you wonder and then chuckle. You may even learn something new about how perspective works.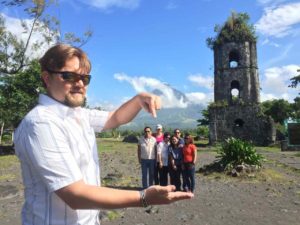 In this time of "fake news" it is easy to toss whatever we hear or read in one bin or the other – "fake" or "real." But in musing over the photos it occurred to me that they are "fake" and "real" at the same time. Here we have a real, un-tampered with picture. There is nothing fake about it. Yet it leads us astray, makes us believe that Lucy's son is a powerful giant, a kindly one it appears. So, is he "really" a giant among men? Of course not, although his mother would argue that he is a giant in her life and capable of great and wondrous things.
I leave it to you to continue pondering the nature of "fake" and "real."  I want to stop here and just smile again at the photos and send out long distance kudos to those Filipinos, entrepreneurs extraordinaire. As Nathan said in his email, "…tourists do this kind of photo on their own, with their cheesy pictures of holding up the Leaning Tower of Pisa and so forth. But these guys took it to another level."