Living in a rural area outside Santa Fe, we are masters of our own waste, free of pesky rules concerning style and content of compost facilities. Our "facility" is about the size of a small bedroom or a large closet, contained within four walls of straw bales, stacked two bales high. It is divided into two cells, one where the fresh offerings go, and the other where the compost is left for the final conversion to soil. I know there are those with other systems, plastic barrels that you roll on the ground to activate whatever the composting agents are, and plastic bins that sit in a frame and you turn with a crank. They adhere to strict rules about what goes into the bin – only fresh vegetables. — but the result can be disappointing, smelly and slimy.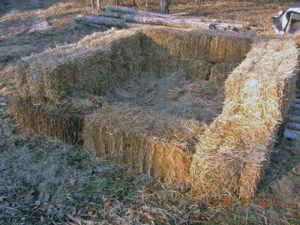 We, on the other hand, are equal opportunity composters. There is nothing in the animal or vegetable kingdom that is not welcome. Our compost bucket takes all vegetable matter (the older the better), as well as chicken carcasses, fish bones, paper towels, egg cartons, stale crackers, sour milk, old wine, and leftovers whose identity is masked by a thick layer of blue, green or gray fuzz. Egg shells and coffee grounds are treasured.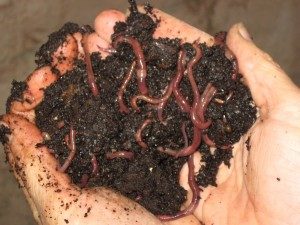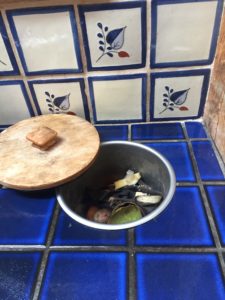 Roberto dumps the bucket a couple of times a week, and every month or so sprinkles a thin layer of moldy leaves or horse manure on top. He built a wire mesh frame for the top to keep out the larger mammals and the birds who would eat all the worms who of course are our workforce. Mice come and go through the hay bales, trying new menu items and generally churning things up. These workers, and billions of microbes, labor through the seasons and in the spring we are blessed with beautiful black soil, like magic.
There is something deeply satisfying about composting. If we have forgotten a bag of kale in the back of the refrigerator drawer, or those tangerines in the basket on the kitchen table have gone soft, my first thought of course is food-waste-guilt.  But this is quickly overtaken by "Oh, the compost will love this!" Nothing is wasted. The kale, the tangerines will soon join a world of decomposing matter in our back yard, and in the spring their cells will be rearranged into that rich, dark soil which will nourish our trees and garden.
I am comforted by this thought. Yesterday we hauled half-empty wine bottles out back and shared a couple of gallons of merlot and pinot grigio with our compost workers. It was a farewell toast to 2018, a stressful year in so many ways.
May 2019 be a year that nourishes – our planet, our children, our compassion for one another. And if not…there's always the compost.