Roberto and I were having breakfast out the other morning and a friend came up to say hello. He and Roberto are fellow combat veterans, although a generation apart. Roberto was in Vietnam and Daniel was in the first Iraq war. He asked how I was and I said automatically "Doing fine, thanks, and how about you?"
"For me," he said with a slight pause, "I'm doing great."  He explained that given who he was, given his particular set of challenges, it was actually a great day.
He is a counselor, working with a population that is battling a lot of demons – veterans, addicts and those with mental illness. A client of his once answered the "how's it going" question with "I'm at one hundred per cent, top of my game!" even though by outward appearances none of us would want to trade places with him. He was tired, hungry, needed shelter and a shower. But for him, given what he was dealing with and how he often felt, this was an excellent day. If he had been using another measure – mine, or yours, probably — it would have been far from a good day.
I am not saying that we should settle for less than we deserve. I hope the 100% man can look forward to, and strive for, a day that is 110%. But only he will know what that looks like. It's not for the rest of us to set those standards for him.
I like that concept. You use your own metrics to measure the "goodness" of your day. You don't have to measure yourself up against the metrics of some ideal mainstream American. You should be able to rejoice in a great day that to the outside "normal" world might look pretty bleak. And on the flip side, you don't have to be having a great day just because people think you should be. What looks like success to the rest of us may not feel like success, and what looks like failure may not feel like failure.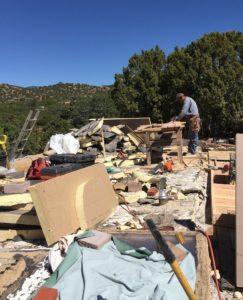 We are having a new roof put on our ancient flat-roofed adobe house. We are into our third week, living with plastic draped over everything, dust and pumice and all kinds of debris sifting down through the boards and beams in the ceiling as the workers pry, smash and scrape the old roofs off. Yes, that's plural "roofs," for those that came before us just piled new sections on top of the old, so that in places the workers have identified five different roof jobs as they do their archaeological excavation. It is all much worse than I thought it was going to be.
The first few days I thought I would go mad with the noise and racket that shook the house and made the doors rattle in their frames. It was as if my house was an old tooth and I was inside it as the dentist tried to save it. I was afraid to leave because of the unpredictable rains of debris that were happening. I snapped at Roberto, glared at the cats, and muttered to myself that I could not stand this.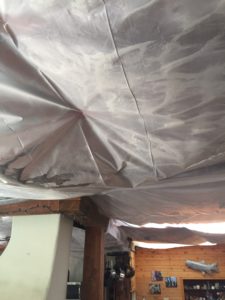 And then, on the fourth morning, with the racket just as bad, I found myself in a good mood – nearing 100% even!  I heard the workers chattering happily as they earned a day's wages, their ranchera music blaring from the radio. The wrenching and pounding and tearing sounds were simply signs of progress toward that beautiful new roof. I decided to climb the ladder and look at the scene.
It was as I imagined but rather than jump off in despair, I smiled, greeted the workers in Spanish and thanked them for their good work. I climbed down, went back inside and went back to work. Yes, I thought, as a piece of plaster landed on my head, this is a very good day!