We just returned from 18 days in Japan. My last blog was a highlight (or should I say lowlight) of our last visit there in 2010. Blessedly this trip was full of good health, plus outstanding food, beautiful scenery and the world's most gracious people.  It was one of those experiences that is so packed with sensory overload that it is hard to know what to say when someone asks "How was your trip?" Fabulous, of course, but so much more. A flood of sights, sounds, smells washes over me. A host of faces smile at me.
So, here are some glimpses.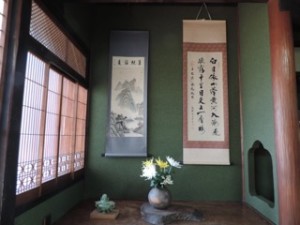 BELONGING:  Our daughter-in-law is Japanese. She grew up in Hiroshima, and her family (four generations) live there in a new two-story house in a neighborhood not far from the train station and the new baseball stadium. Hiromi's grandma, Riuko Takazawa, a teacher and well-known painter, lived in a traditional, tile-roofed, soji-screened house, and when it was scheduled for destruction in the path of urban renewal, she put her (tiny) foot down and refused to sign the city's permission paper. They begged and cajoled, and offered her a lot of money, telling her that she was holding up the project and implying that she was bringing shame on her family with her behavior. She said something like, "too bad" and "my house is not for sale" and insisted that they move her house to the site of her daughter's family's house. They finally gave in and moved the house, which must have been quite an undertaking, and it now sits next to the new house, joined by a hallway.  Obaasan is the word for grandmother. Her great-grandchildren call her Oo-obaasan, adding extra "o"s as additional honorifics. I might add a few more to honor this remarkable woman, now 90. She generously opened her old house to us and we slept in a very special room on tatami mats, surrounded by shrines, flower arrangements, candles. Being welcomed into the family in this way, eating with them, laughing, trying out our few Japanese phrases, playing with the youngest member of the family, Yukari, just one year old — all this was a real treasure.
TRADITION:  We are doubly lucky to have very special friends in Japan, Kayoko and Yojiro, who drove us through north central Japan, taking us off the beaten path and into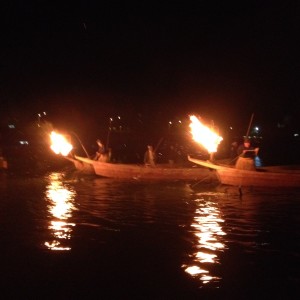 some remarkable experiences. In Gifu we went out onto the river at night and saw an ukai master perform his art. To some his art may seem exploitative, but like the rest of life, it is complicated. Ukai is the art — recognized as such by the Japanese government and by UNESCO — of using cormorants to catch fish. The master dressed in many layers of grass skirt sends his birds into the shallow water to dive for fish. They are on loose leashes so that he can pull them back when they have filled their gullets with fish. He lifts them out of the water, scoops the fish out of the gullet into a basket and sends them back for more. If not playing a role in this eerily beautiful drama, the cormorant would obviously gobble all the fish it could, the smaller ones sliding on down the throat, and the larger ones staying in the pouch under the lower jaw to be pre-digested into small enough pieces to swallow. The master interrupts this process, harvesting the sizable fish that the cormorant has not swallowed. The birds dive three or four times each, and are rewarded after their labor with a large wriggling fish before being put in their cages. I watched carefully and I confess judgmentally, thinking about survival, cultural traditions, animal exploitation and how they all fit together. I imagine almost all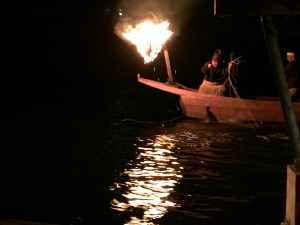 cultures  have "work partners" from the animal world — horses, elephants, water buffalo and sled dogs come to mind. Are the cormorants any different?  They do what they love, and in the end are well-fed.
CRAZY KINDNESS:  All we had to do was stand looking bewildered (not hard to do) and someone came up to help us. We had studied a few months of Japanese before the trip and could say some bare necessities and pleasantries, and had even learned the two most common Japanese phonetic alphabets, so we could read some signs. But there were many, many times we needed help. We were in the basement level of a huge department store, having worked our way down, buying as we went. The basement was filled with food and drink of all kind, and we had just bought wine and sake for the family. We knew it was raining from the looks of all the dripping coats and umbrellas, and decided to take a taxi back to the house. I saw an information booth and approached. "Takusi wa doko deska, onegaishimasu?" I asked politely. A uniformed elderly man smiled and said "taxi?" I nodded, and he took off at a sprint from behind the booth. I thought maybe there was some emergency I was not aware of, but he turned around mid-run and motioned for us to follow. We arrived at the elevator and with many "arigatou"s we thanked him, knowing once we got to the street we could figure it out. The doors opened and he popped in with us, pressed the button, rode up with us, escorted us out of the elevator onto the street where there was a line of taxis waiting for us. Again we "arigatou"ed profusely, but he was off at a trot, heading for a taxi. By the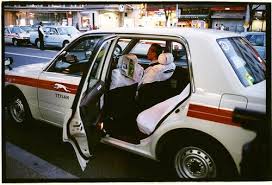 time we got there he was explaining things to the taxi driver, and with many nods and bows they finished their business. The automatic door opened, the information booth man ushered us in and seemed to tell the driver to take good care of us. He bowed deeply as we took off, then turned and sprinted back into the building.
TERMINALLY CUTE:  And finally, I cannot leave Japan without a nod to their outrageous flair for the cute. Here is a parked car with Hello Kitty seat covers and all kinds of cat toys on the dashboard. We did a double-take before we realized that Hello Kitty had not come to life.