My post last month thanking Holly Holm for her "powerful kick to the head" brought different reactions from men and women. Of course there were exceptions (as you see in the comments following the post), but in general the reaction of those whose paths I crossed fell into two camps.  Men were amused and a little titillated I think. "I didn't know you were into kick boxing! I better watch out," with a feigning block of the head, was the gist of it. Women on the other hand were critical that I praised a woman for trying to emulate a man, especially the less attractive aspects of what they consider manliness – brutality.
I was surprised. Both kinds of readers seemed to overlook my point – that when we are confronted with horror at the hands of fellow humans (as in terror attacks), some of us, me included, have a deep instinct to lash out and clobber those brutalizers. Holly offered me that vicariously.
But did I miss something? Is a female mixed martial artist trying to be like a man? Should women somehow aspire to a higher, more civilized way of relating to each other, of expressing ourselves? (For that matter, shouldn't we all aspire to that?)  I thought about it a lot, and came to this conclusion:  Holly Holm loves to compete physically and to beat her opponent. This is who she is, among a lot of other things. I have read nothing about her that makes me think she is trying to be like a man. Saying that she is just trying to emulate men is insulting to her; it robs her of her human right to pursue her passion, whatever it might be. When a man enters the world of ballet or nursing, is he trying to emulate women because those are their traditional arenas? I don't think so. Like Holly he is driven to follow a passion that lies on the human spectrum. I hope that I can accept and respect those choices that he, that Holly, that we all have a right to make.
I'm not saying that there is not a power imbalance. Man, because of laws, physique, traditions, social norms, hormones, whatever combination has a history of exerting his power over women in cruel ways. That is a fact and we should all be working to right that imbalance in every place it rears its ugly head. I am saying that fighting and aggression and competition and even giving someone a powerful kick to the head is within us all, given the right circumstances. These are human instincts, often repressed in women and praised in men, and when someone breaks loose and crosses over, so to speak, it is not because that person is yearning to be like the other, but rather it is because that person is human, in all its variety.
As a mediator, I strive to see the humanity in everyone I work with. Each person at the table, no matter how frightened, how angry, how unreasonable, is human at the core, and if I can help the group to see that humanity in themselves and each other, there is hope for a solution that will satisfy all.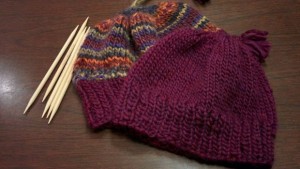 And speaking of humanity and brutality, I want to wrap up this year with a nod of appreciation to Canada for welcoming 25,000 Syrian refugees in 2016.  The first have already arrived and are settling throughout the country in cities and small towns. Prime Minister Trudeau gave a heartfelt speech laying out the plan and unifying the country in one big embrace of these newcomers. In preparation, hundreds of Quebecers from grade schoolers to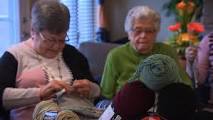 grandparents have begun knitting stocking caps called tuques, vowing to complete 25,000 in time for each immigrant's arrival. These tuques are adult versions of the ones that every newborn baby in Canada receives, a tradition that makes sense in a country where snow and ice stick around for many months.
The motto of the "Tuques Project" is "the only true enemy is the cold," but the tuque seems to represent more than a warm head. It is a symbol of being a Canadian, a welcoming to this land and its people, an acceptance, a sign of belonging. And for these reasons – the practical and the symbolic – I was deeply touched by the gift of the tuque to every new Canadian from Syria, an emblem of their new start, their re-birth in this welcoming country.
May 2016 be a year where we all experience – as givers and receivers – this kind of embrace.