…But, it's fresh on my mind, and maybe some – or even many – of you can relate.
About two weeks ago I underwent oral surgery. Just those two words together make you clench your mouth shut, don't they? I had an exostosis, a benign growth on a bone. A bone spur is an exostosis. For better or worse mine was growing straight out from my lower left jaw. If this is too much information and you'd like to click the "enough already" button, I will understand, and I hope to see you next month, when I promise a more palatable post.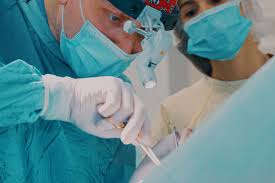 If you're still with me, I am curious if this journey will make any sense to you and if maybe you have had some similar experience. So here goes. I arrived for the appointment and was hooked up to all kinds of monitors by a nice and calming assistant. Then she put in an IV for the Versed. I have had it before and find it completely satisfying in that I am simply not there any more in that place I don't want to be. You go to sleep and no amount of grinding, sawing, cutting, probing, sucking and poking will wake you up. I asked her if she had started the drip yet, and she didn't need to answer because at that moment as I stared at the oxygen monitor the number went from 97 to 999777. That's the last thing I remember.
In an hour or two, I woke up, feeling great. The surgeon said everything went fine, and added kind of bemusedly, "It was just like a little horn." I left feeling kind of special, like maybe I had a few cells that thought they were in a stegosaurus or a wart hog or some such. The recovery from the surgery was quite smooth. But there was collateral damage and that is what I wanted talk to you about.
Over the first few days following the surgery I developed marks and tenderness on my chin, cheek, neck and face. I was swollen, red, yellow, black and blue. Alarmed, I took pictures of myself – no, you cannot see them – and emailed them to the surgeon. I can't remember his exact words, but they were very diplomatic and kind. The message was that he had had to exert a great deal of pressure on various parts of me, and there was twisting and torquing going on and it was not surprising at all that I was sore and puffy and colorful. All was well, he assured me. That made perfect sense, and I thanked the medical gods for Versed. It's like I wasn't even there, I told myself. So glad I don't remember any of that. I was just whisked away somewhere else… but wait a minute, not all of me was whisked away. My body stayed behind and took a serious beating.
And as the days went by my body let me know that we – my body and I — had experienced real trauma. I may have thought I was blessedly excused, off on a Versed holiday, but my body was not buying that story. I was there throughout the ordeal whether I had any memory of it or not. Although I submitted to this abuse willingly and even paid a hefty sum for it, and even though the doctor was acting in my best interest and was extremely skilled and even compassionate, my body experienced it as an attack, with wounds which needed healing. I tended the physical wounds with ice packs and heating pads, with aloe and arnica, and Advil and Tylenol. But something else was going on. I was nervous, clenching and releasing my jaw reflexively, worrying about infection, blood diseases, return of Covid. I stopped taking daily walks through the arroyos, I was sure a mountain lion or a snake or both were lying in wait for me. I was stressed at work, afraid of making mistakes, sensitive to criticism. I wasn't interested in television or reading or crossword puzzles. I was not myself for several days. I was wrestling with trauma in a deep place.
There is a wonderful book, "The Body Keeps the Score: Brain, Mind and Body in the Healing of Trauma." It deals with all kinds of trauma including historical trauma that is passed on from generation to generation. The dynamics between the physical body, the brain and the conscious mind are complex, mysterious and can be key in helping heal trauma of all kinds.
My tiny experience in this realm of trauma was insightful. Gradually, I understood what my body was trying to tell me. "Don't deny what has happened. Look at the evidence, listen to what your cells are telling you. We endured a major shock and we survived, and together we will heal." I'm happy to report that I am much better — less anxious, more energetic, more ready for joy. My body and I are working on it, together. Neither of us could do it alone.