It was before the holidays and I was shopping for a gathering. My cart was full and I had just finished loading it onto the cashier's conveyor belt. As I began to wonder why the customer in front of me was taking so long, the cashier announced, "Sorry, Hon, register is down. I'm closing."
"I have to move to another line?" I almost wailed. She nodded and said she would help me put everything back in the cart. I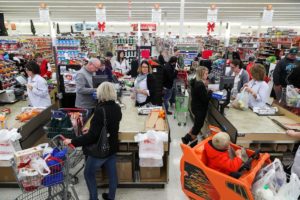 thanked her and as I was pulling away from the closed lane, I looked around for the next best choice. The lines were all long.
"Here you go," gestured a big man who was at the front of the line next to me. "I saw what happened. You deserve a spot right here!" and he stepped back with a swoop of his arm.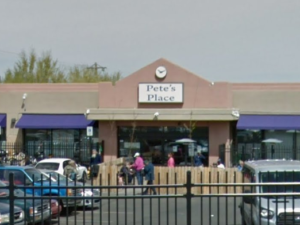 "That is so nice of you. Thank you so much," and I moved in and began unloading the cart for the second time. I heard the big man strike up a conversation with the man in back of him. They both were veterans. The big man said he volunteered four nights a week at the local shelter, home for many homeless veterans. They compared service history, both Vietnam. I turned and added that my husband was a Vietnam vet, too, and I thanked the big man for helping out.
The belt began to move and I was preoccupied with getting the bottles of wine into the right shopping bag and sticking my card into the reader.
I heard the big man say, "…well, I don't really give a damn….they can do whatever they want …. doesn't make any difference to me…I say we just keep doing what we're doing…"
I assumed he was talking about Washington, DC. It was pre-impeachment time and the pros and cons were on everyone's mind. And I assumed that he was "on my side."
"You are so right," I said, turning as I signed the credit card slip. "Just keep doing what we're doing."
He smiled. I thanked him again, and pushed my cart out into the flow of traffic heading for the door.
I had a warm feeling. What a nice man. He gave me his place in line, he is volunteering at the homeless shelter, he's just going to keep doing what he's doing no matter what, and as for politics, he thinks the way I do… or does he?
I replayed his remarks in my mind. It wasn't clear. He could have been on my side, or the other side of the political divide. Did that matter? Did it make his kindness to a stranger any less kind? How curious, I thought. Here we are obsessed with who is with us and who's against us, and here was a simple human interaction that snuck in under that radar. Human to human, kindness, camaraderie, sharing story fragments, common caring. Surely this trumps the political divide…ooops, I went and said it.