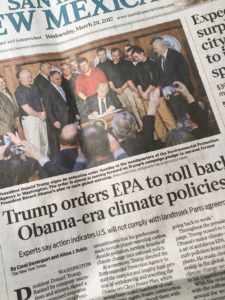 I always try to write something more or less upbeat on this blog, but this month I had a terrible time. I had opened the paper to see that the administration was gutting EPA, where I have so many friends and colleagues doing such important work. Every story – local, national and global — was filled with despair and foretold the end of more than a healthy environment. I saw our moral fiber crumbling, our values in a shambles, our caring and empathy for each other in rapid decline.
The next morning in that half-sleep and half-awake state I had a vision of a postcard I received many years ago. I have found that these flashes from the elusive land between conscious and unconscious are worth paying to attention to. And this one came with a message. Here it is.
When my younger son was 7 he went to a music summer camp in the mountains a couple of hours from home. That's young, but he went with his older brother who had filled him with exciting stories from the year before. Nathan was eager to have those adventures, spend time with all the big kids and learn to play the drums. Halfway through the two-week camp session every kid wrote a postcard home. It was required and we parents looked forward to that reassurance that our child was alive and having fun.
So, it was with eagerness that I flipped over the postcard to see what Nathan had written. This is what I read:  "Dear Mom, It is hard to write when you are crying so hard, love, Nathan." The card was smudged – with tears, I was sure. I was filled with guilt that I had sent him away so young and wanted to jump in the car and go get him. But I waited the three days until the camp session ended, believing that if anything were terribly wrong the counselors would have contacted me.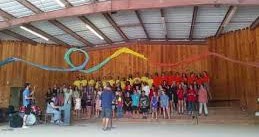 We arrived and after much searching found Nathan, cavorting like a young goat on the bandstand with his new friends, laughing and having a great time. We listened to the concert, filled with pride. The drums were especially well played.
I think that postcard surfaced in my mind because, like Nathan, it is hard to write when I am crying so hard. The tears may not be smudging my paper, or dropping onto the keyboard, but the loss is there just the same. I, too, want to go home. I admit that this world has been a scary place for quite a while, but it is hard not to believe that we are looking at a new definition of scary.
So, to continue the metaphor, is it possible to cavort like a baby goat, on the bandstand with my new friends, the ever-present scariness lurking behind me?
It's not quite that simple, but Roberto and I did do a little cavorting last Saturday. Having been elected to represent our ward last month (see my last blog post), we marched on to the county Democratic Party meeting, our first time ever to engage in  grassroots party politics beyond bumper stickers, buttons and contributions. The place was mobbed. Almost 400 representatives from all the wards in the county crammed the union hall to elect the county chair, vice chair and delegates to go to the state convention. There were breakfast burritos, donuts, coffee, and juice. Party hopefuls were eagerly shaking hands, those of us with precious votes to cast were pressing our issues on whoever would listen. Not surprisingly, the median age must have been about 60, but it was a diverse and lively crowd, and the younger ones were not shy. The level of energy was through the roof.
And looking back on it, I don't remember the name of our president being mentioned once. Instead of going to that scary place, the focus was on grassroots people power. All the speeches were filled with optimism and enthusiasm for a future where diversity is welcomed, inclusivity valued, and cavorting encouraged.