There are intractable conflicts rooted in history all over the country. Conflicts over flags, over statues, over celebrations, over naming of public places, over school curriculum, and on and on.  Sometimes it seems that only a miracle could resolve them. Well, I am proud to announce that a miracle has happened, right here in Santa Fe. But I must begin with the history, because as with many conflicts that's where it all began.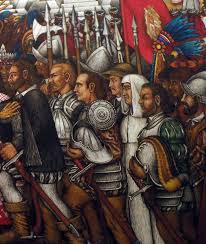 In the late 1500's Spanish conquistadors marched from what is now Mexico north in search of the famed cities of gold. Anyone they met along the way was astounded at the sight of these armored, spear-carrying, bearded strangers and sent them on. "Oh, the cities of gold? Yes, they are about 100 miles to the north." Reaching as far north as what is now Colorado and as far east as what is now Nebraska, they finally gave up the search and settled along the Rio Grande, running north to south through what is now New Mexico.
After two or three generations, the Pueblos decided to rid themselves of the Spanish and return to the pre-conquest days. Several pueblos rose up in a coordinated attack on the Spanish and drove them south in 1680. It was a remarkable feat and they reaped twelve years of peace. But in 1692 under the leadership of Don Diego de Vargas the Spanish returned to retake Santa Fe and their abandoned Palace of the Governors. The Palace had been built on top of Tesuque Pueblo, and the pueblo warriors were ready to defend their traditional homeland. Although on that first day the sight of a canon convinced the Indians to retreat, the re-conquest of the area took three bloody years of battle. With conquest complete, Pueblos and Spanish settled into co-existence. The pueblos were probably resigned to this new way of life, and the Spanish were probably somewhat more respectful neighbors, now knowing that expulsion was possible.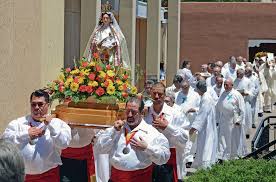 Today, over 320 years later, Pueblo Indians, Hispanic descendants of the conquistadors, and newcomer (1800s) Anglos live in relative harmony. Conquests and subsequent exploitation may be distant in terms of years, but how this history is remembered is critical today. In Santa Fe, a commemoration dates from 1712, when the Spanish proclaimed an annual celebration of the shared faith of Spanish and Pueblos. With some interruptions a statue of the Virgin Mary, called La Conquistadora (which had come with the cannon in 1692), has been carried every year from her home in the cathedral to the plaza and returned.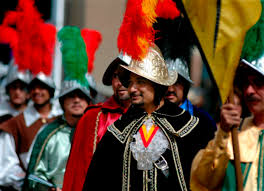 In 1911 in an effort to increase tourism in Santa Fe, an Episcopal priest added the entrada, to the event. This was a re-enactment of the supposed "peaceful re-conquest" of Santa Fe in 1692, complete with a local Hispanic dressed as DeVargas riding into the plaza with his men on horseback, and then meeting a local Pueblo Indian who kneels before the conqueror, and is touched by a sword on his shoulder while DeVargas makes a speech. The speech credits La Conquistadora with the bloodless re-conquest.
The entrada is only a part of what is the three-day Fiestas de Santa Fe in early September, but it has been the center of controversy for many years, as Pueblos are increasingly distressed with what they see as a humiliating and inaccurate version of history. The Caballeros de Santa Fe, the fraternal organization that produces the entrada every year is devoted to their belief that the re-conquest was bloodless, thanks to La Conquistadora's miracle. The Santa Fe Fiesta Council, responsible for the larger celebration of which the entrada is a part, has been unable to resolve the conflict. Local elected leaders have promised to address the issue, with no success.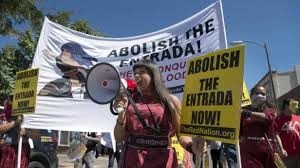 Last September, frustrated Indians and their supporters interrupted the entrada in a protest that resulted in arrests. Again there were letters and editorials, promises and threats, criticism on all sides. Would we be facing an escalated protest in 2018?
The All Pueblo Council of Governors stepped up. They called for the mayor of Santa Fe and the Archbishop "to engage in a respectful and principled deliberative dialogue…to define a process for genuine reconciliation to heal the wounds of the past and celebrate the beauty of our respective cultures, traditions and people." They warned of escalation "into a regrettable set of circumstances where innocent people are victimized…and a militaristic response could reopen wounds that have taken many generations to heal."
Enter Regis Pecos, a former Cochiti Pueblo governor, a Princeton graduate, a lawyer, and founder of the Leadership Institute which nurtures young Natives and Hispanics to draw on their cultures, histories and communities to become leaders. In addition, he is, in my opinion, a miracle worker.
Regis brought together representatives of the All Pueblo Council of Governors, the Santa Fe Fiesta Council, the Caballeros de Santa Fe, the mayor and the Archbishop of Santa Fe, and met behind closed doors for several months. All present agreed that Regis would be the sole spokesperson for the group and that everything said would remain confidential until an agreement was reached. This was critical since any leaks could have spurred supporters of one side or the other to threaten the process.
At last on July 25, the headline of The New Mexican read "Fiesta Drops Divisive Entrada Pageant." My heart leapt with joy, instead of sinking into my stomach as is usually the case with headlines these days. Regis was interviewed and reported the results. The entrada, added in 1911, will no longer be part of the Fiesta. Those at the table agreed to return to the original intent of the 1712 proclamation…which calls for "Vespers, Mass, Sermon and Procession through the Main Plaza." He added that the All Pueblo Council of Governors also had passed a resolution establishing a "Truth and Reconciliation Commission to plan and redesign a more inclusive and celebratory commemoration."
Pueblo reaction ranged from "humbled and grateful" from Elena Ortiz of Ohkay Owingeh Pueblo, to "super happy" from Jennifer Marley from San Ildefonso Pueblo who was arrested last year. There are also some cautious "wait and see"s.
The Caballeros are planning on an alternative celebration on the plaza during Fiestas, without the re-enactment or mention of the conquest. Regis said there are also plans for a series of events before the kick-off of Fiestas "to commemorate the negotiations of reconciliation." I am hopeful that this September will bring us a peaceful celebration of the resolution of a nasty conflict.
As a mediator, I am full of admiration for Regis. This was as intractable a conflict as any, rooted in a long and painful history. Adding to the challenge, there are two starkly different versions of that history, one of which has become entwined with the belief in the power of a statue. Further, it is unusual for a conflict to be mediated by someone who belongs to one side, but Regis was obviously able to gain everyone's trust. I am guessing he showed a sincere respect for all present and a deep appreciation for the impact of history. He makes me believe in miracles.
For a great profile of Regis in the August 5th New Mexican, go to: http://www.santafenewmexican.com/news/local_news/a-respected-s-f-power-broker-with-humble-beginnings/article_67b4ea99-7c9c-570a-b26a-4b96235670ff.html  (some day I'll learn how to do links….sorry)