In spite of the Hallmark card nature of Father's Day, I am glad to have a day to think about my dad and his qualities that I hope are flowing in my veins as well.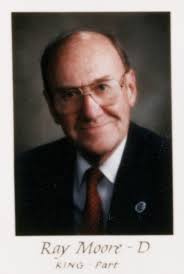 My father was crazy about politics. Although he made his living as a stock broker in Seattle, he always had his hand in a campaign, supporting a candidate, advocating for civil rights, the end of the death penalty, better treatment of animals, and a host of other passions. And when he retired he ran for, and was elected to, multiple terms as a state senator in Washington state. He was, as he said, "in hog heaven," wheeling and dealing on behalf of the underdog.
I was lucky to grow up in this environment, where voting was not just a right but a thrill, where democracy was attainable, where all you had to do was get in there and participate, and things would be better. There are moments when I go into the polling booth with such reverence, I tear up. I am so moved by this simple act of individual power, by the hope that it represents. (This is not the place to dwell on what might have gone wrong, or be going wrong…)
My father lived to 91 and on every birthday, except that last one, he declared, "This year was the best year of my life!" He was the most "glass half full" person I have ever known. He suffered from macular degeneration which robbed him of his sight. He was left with some peripheral vision, but when he focused on something it was like a black hole. He could read on a reading machine if he dialed the font size up to about 60. It took him forever, but he plodded along, letter by letter.
He lived in Hawaii those last 15 years where he planted 300 coffee

trees in the back yard. He loved to pick the coffee cherries, which are first green, then yellow, and finally when they are ripe, bright red. Even in the last couple of years when he could hardly find his way out to the orchard, he would take his seat in an old plastic lawn chair in front of a tree and declare, "Isn't it great!!?? I can see the ripe ones – they're bright red," and he would reach up toward the color.
When I despair that my hearing is beginning to fail me, or some other sign of aging, I think about my dad, out there in the orchard. He didn't grumble that he could hardly see anything; he rejoiced that the cherries were red.
May we all be able to find that thing to rejoice in.