I was going to write something uplifting for the new year – and if you want that right now you could revisit my post from January 2017 (see past posts) which is even more relevant now than then – but I cannot get this guy out of my mind. No, it's not the one you think. This one has a longish gray ponytail and a silver Lexus with a solar-powered prayer wheel on the dashboard. And this is how we met.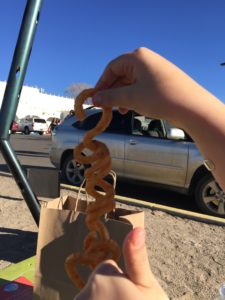 Roberto and I took our ten-year old grandsons to Meow Wolf. It was our first time and we were blown away by the art, the craft, the cleverness and the delight in every room and around every corner. I can't describe it here, but if you are not local please google it to get the idea. After a couple of hours of amazement we staggered out into the warm December day. Always being hungry, the boys headed for the food trucks. We loaded up with sandwiches and curly fries and found an empty picnic table nearby. As we were happily munching and reminiscing about the Meow Wolf experience a silver Lexus pulled up to the curb just a few yards away and stopped. The driver sat looking at his phone for several minutes, maybe waiting for a child he dropped off inside, I guessed.  We took our time, marveling at the solar-powered prayer wheel on the car's dashboard, twinkling as it turned in the sunlight. We also marveled at the length of a curly fry and wondered whether we could enter it in the Guinness Book of World Records.
After 45 minutes or so the driver got out of the car — that's when I saw his gray ponytail — and walked over to the espresso truck. And that's when a grandson, whose hearing is a lot better than ours, said that he thought the car was running. "It couldn't be!" I said. "He's been there so long." The boys went over to the car and felt it. Yup, they declared it was vibrating.
"Just some random noise," Roberto offered. "It can't be running." That sent me to the exhaust pipe…where I discovered that it WAS running. We were all horrified for obvious reasons. As we packed up our trash and headed for our car I took a detour to the espresso truck.
"Excuse me. Did you know that your car is running?" The ponytail turned to me.
"Yes. I know." No expression. Just staring at me.
Flustered I said, "We were wondering why? why would you let your car run for so long? I mean, was there a reason?"
"No reason. I just left it running." Slightly bemused expression.
"But, why…were you doing something that required the engine to be on, or ….I don't understand." I was dumbfounded.
"It doesn't matter if I left it running."
"It DOES matter. I worry about wasting gas and adding to air pollution and greenhouse gases, and –"
He looked at me as if I were a curiosity. "You don't need to worry about that."
"Well, I DO worry about it. It's a big problem." How dare he tell me what I choose to worry about!
"I'll turn it off when I get my coffee. Don't worry about it." His calmness was like a brick wall.
"That's not the point. I just don't understand why…" and I left, fearing I would either burst into tears or hit him.
I reported the conversation to Roberto and the boys and the reactions were swift. Roberto wished that he had potato to stuff up the Lexus' tail pipe, explaining that it could destroy the engine when the exhaust backed up. Jumping aboard, the boys grabbed a tangerine out of my purse and demanded that we return immediately. Roberto doubted that would do the trick, and I said I would always travel with a potato from now on. That seemed to mollify them. But it didn't end it for me. I am haunted by the encounter. I keep replaying the exchange and seeing his bemused, unmoved expression, as if I were merely a curiosity, not worth listening to, part of another world that had no relation to his world. And finally I keep seeing the little solar-powered Buddhist prayer wheel on the dashboard, twinkling as it rotated in the sunlight.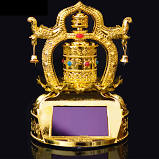 I googled solar-powered Buddhist prayer wheels for dashboards and found that there are several models, some with anti-skid pads, some with battery packs, some with gold leaf and some with inlaid coral and turquoise for only $17.95. Most would ship for free in 12 hours. I also learned that each rotation is worth reading the inscriptions on the wheel aloud, so as you check your iPhone or drive to the nearest Starbucks you will be building your spiritual credits without lifting a finger. You will be purifying ignorance, anger, and hatred, advertises one. Another promises gaining compassion, peace and wisdom.
The man with the ponytail should get his money back, or at least two-thirds of it. Maybe that was peace I saw on his face, but compassion and wisdom — not a trace!