When I lived in Chinle, Arizona, heart of Navajo country in the 1970s, I struggled with my role as a young, idealistic, White woman. I arrived with so much good intention and so much ignorance, in equal amounts. I have always felt that those seven years were the most significant in my life. Navajos taught me to be patient, to listen and learn, and to drop all assumptions and expectations about what was needed and what I had to offer.
And the learning is not over. The recent revelations of the horrific treatment of Native children in boarding schools in both Canada and the US hit me hard. While in Chinle, I was a teacher's aide for a Headstart class. Those little ones were 3-5 years old, many living in hogans with no utilities, most speaking no English. Unsure what it meant to be going to "school," they were wide-eyed and cautious in the classroom. Outdoors on the playground, they came to life, rambunctious and free. After graduating from Headstart (in caps and gowns) they went on to the local public elementary school, or to the local boarding school, depending on the preference of their parents and the distance from the bus route.
I knew the history of bad treatment in boarding schools — native language forbidden, hair cut, forced labor, and worse — and I assumed that was a thing of the past. But in recent reports the abuse is documented into the 1970s, and of course abuse of other kinds continues to this day. I am haunted by the possibility – probability? — that those children whom I loved so dearly and can still see today experienced that kind of abuse.
The vividness of recent reports and the timeline also deepens my understanding of the Navajo staff under whom I worked. They were middle-aged and products of the Bureau of Indian Affairs boarding school system. I remember being struck by their seriousness, sometimes verging on somber. Surrounded by beautiful, lively little Navajo children with long lives ahead of them, the adults seemed almost to be grieving. I didn't understand then and wondered what there was to be so sad about. I understand now, so many years later. They themselves had been taken away from their families, put in a foreign and hostile place where they were shamed (at best) and tortured (at worse) for being who they were. They knew the future these children faced and they would do everything they could to prepare them for what lay ahead.
Enter Lucy, the naïve White lady, ready to help. I assumed that what I could bring to the situation was a positive reinforcement of Navajo culture for these little ones who were about to enter the White world. I wanted them to teach me Navajo, I wanted grandpas to come and tell traditional stories, I wanted to make little pots out of the abundant mud outside the trailer classroom. My bosses, the Navajo staff, were dismayed. What good was this White lady? She didn't understand at all! And they were right. I didn't realize that the gift I brought, the expertise I could offer, was a preview, an orientation into the White world.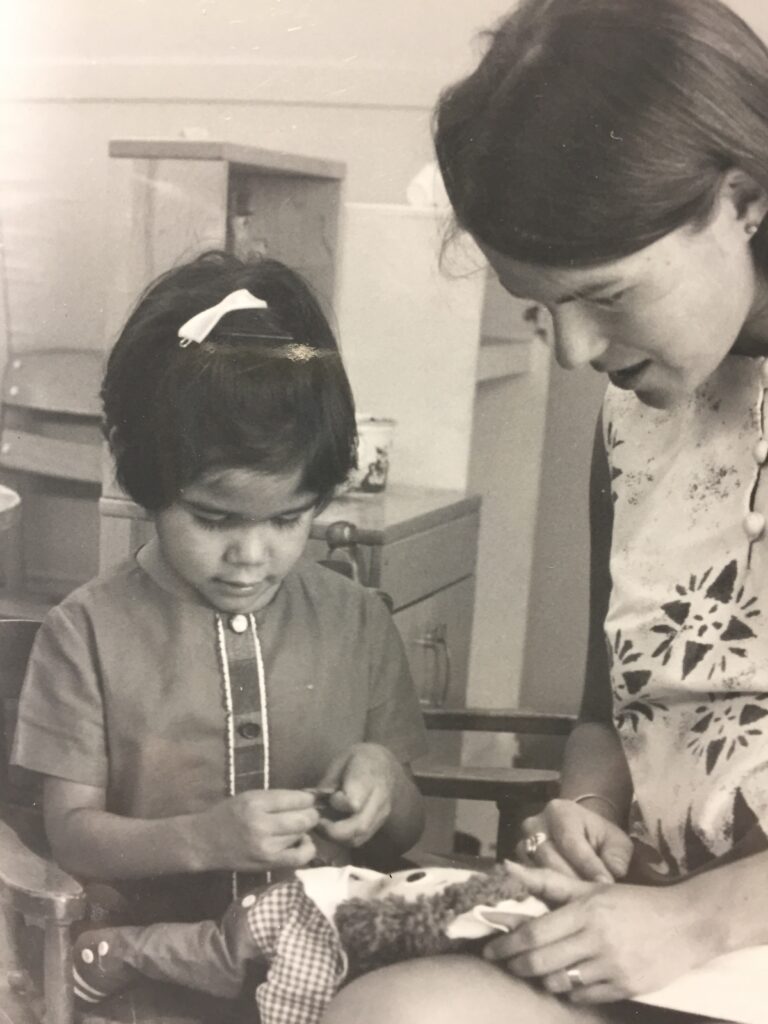 There were many instances of cross-cultural misfiring. I had the kids all sit on the floor in a circle while I read a book to them. Horrified, Mrs. Baldwin the head teacher immediately ordered them all back in their chairs, sitting up straight. Outside I turned on the hose and ran water onto the ground to make a little river for the paper boats we had made. Mrs. Baldwin's lips pursed together as she quickly turned off the water and sent us all inside. She was right. I was stupidly wasting a precious resource in an effort to bring fun and creativity to the classroom.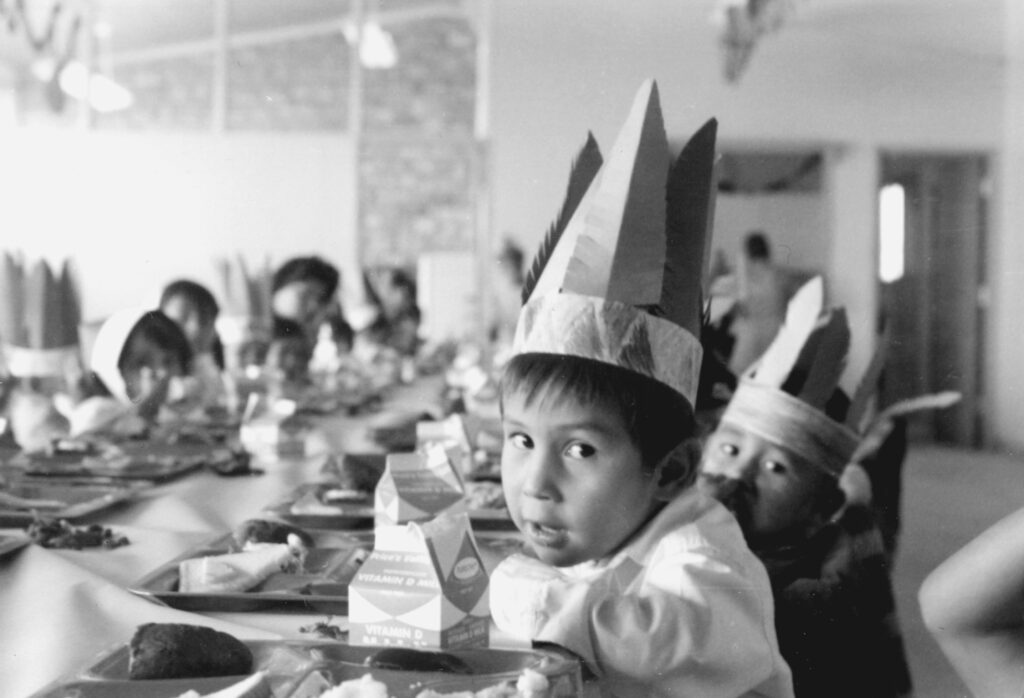 It didn't take me long to find my place and to play the role they asked. I taught nursery rhymes and can still hear them all shouting "pee-tur, pee-tur, pun-kin eat-er." They had no idea what they were saying (and I didn't either), but Mrs. Baldwin knew that their lives in school would be a little easier if they already had this one on the tips of their tongues. I sewed Christmas pageant costumes, and made patterns for paper Pilgrim hats and feathered headdresses for Thanksgiving lunch. The pictures were incredibly cute – and poignant. These, too, were undoubtedly events on the agenda for the Headstarters in their near future. At least, thought the teachers and staff, this won't be such a mystery for them.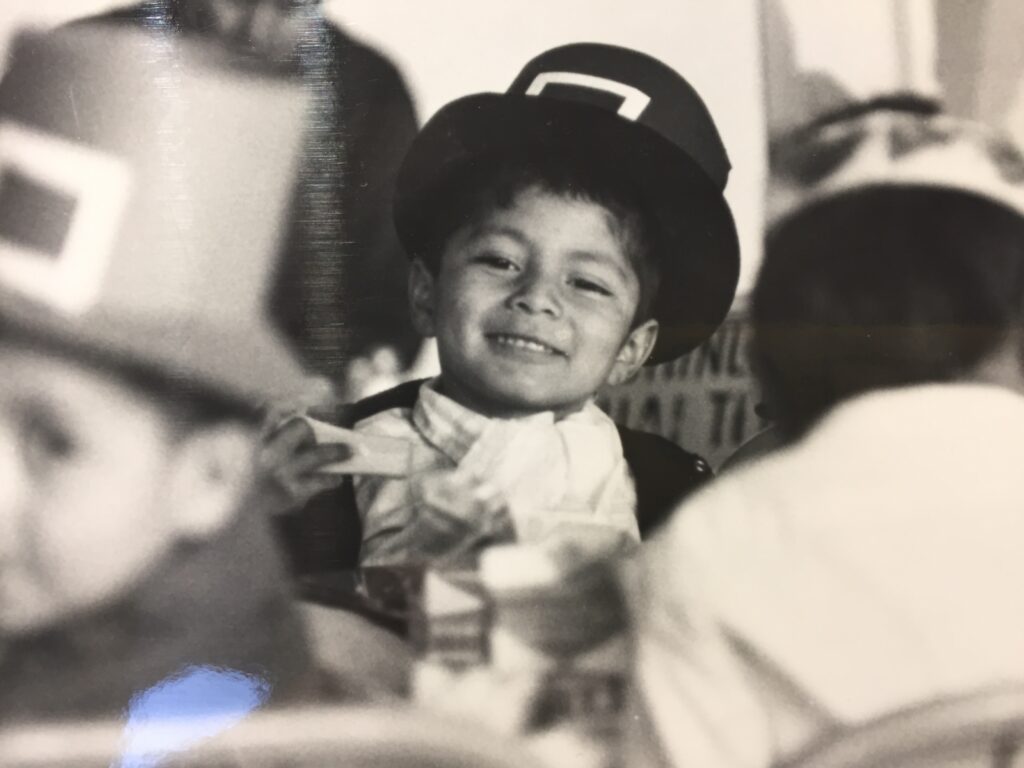 It brings tears to my eyes. Yes, for the children of course, some of whom may have spent painful years in boarding schools. But also for Mrs. Baldwin and her staff, struggling to make a better future for their students the only way they knew how. I can see their somber faces. I can feel their grieving, for themselves, for the little ones, for the culture.
I continue to learn from those years in Chinle…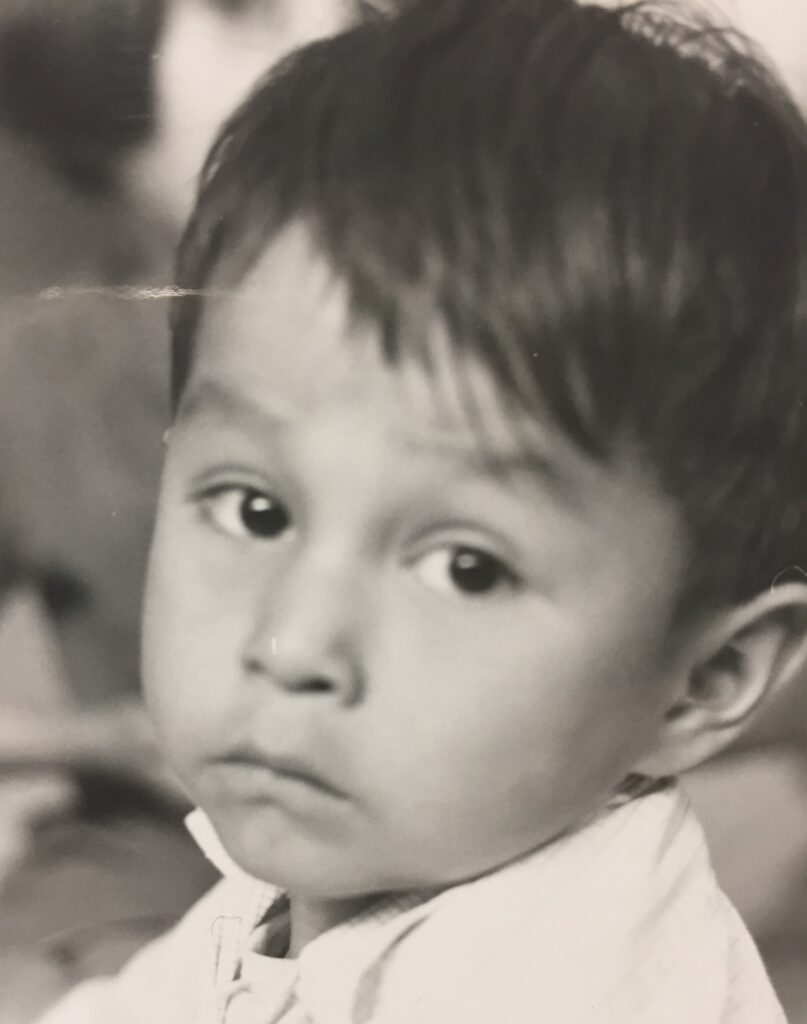 photos are from my memoir Into the Canyon: Seven Years in Navajo Country