I heard a program on the radio as I was driving back from Albuquerque today. It was about "Awe." What is it? Where does it come from? What does it mean? How does it make you feel? It was interesting to hear the wide range of awe-inspiring things that people all over the world identify as giving them that spine-tingling, teary, jaw-dropping, out-of-body feeling that we call awe. Here are a few of the categories that I remember:
Nature: rainbows, clouds, mountain peaks, ocean waves, hurricanes, a mother doe and fawn
Art and music:  a Michelangelo, Mozart, an elegant building, dance, choral singing
Huge life moments:  being present at a birth, or a death, feeling the enormity and fragility of the miracle of life
A greater power:  the sense that there is something bigger than ourselves, something that is guiding us, something that binds us all together
I can't argue with any of the above. I can imagine being awestruck by any of those experiences. But interestingly, the moments that came to mind were small, very small.
It was a wintry March in Santa Fe, snowflakes swirling in a bitter wind as I hurried from the house to the car. I looked down and saw a tiny flower, the tiniest daisy imaginable, the size of my pinky finger nail. There it was, alive, brave, determined to offer the world a speck of beauty. It was peeking up, all alone, next to a rock at the edge of the driveway. I was stunned. I stooped down and spoke: "Who are you?" A strange question, but I meant it. I felt I was meeting a remarkable fellow inhabitant of the planet.  I spent time getting to know my little comrade, crouching, staring, watching the snow flakes land on its tiny face. It is amazing how vivid this is, decades later. Surely that was awe.
And just yesterday, another moment. It is unbearably hot here in Santa Fe. No matter we are at 7,200 feet, it is in the 90s day after day, we even reached 100 last week. For whatever reason, along with the heat came a huge squadron of flies, inside the house, buzzing at the windows, landing on the counter, driving us crazy. The sticky flycatcher caught one, by accident I'm sure. So we resorted to old-fashioned fly swatters. I had trouble with the first one, even muttered an apology before smashing it on the wall. After that it was easy and I swatted dozens of them every morning with no remorse. Roberto followed me with a hand-held vacuum sucking up the corpses. Then yesterday afternoon I saw one that he missed…and it was moving along the tiled floor! How could this be? I knelt down and saw an ant – much smaller than the fly — carting its treasure across the floor to some unknown destination.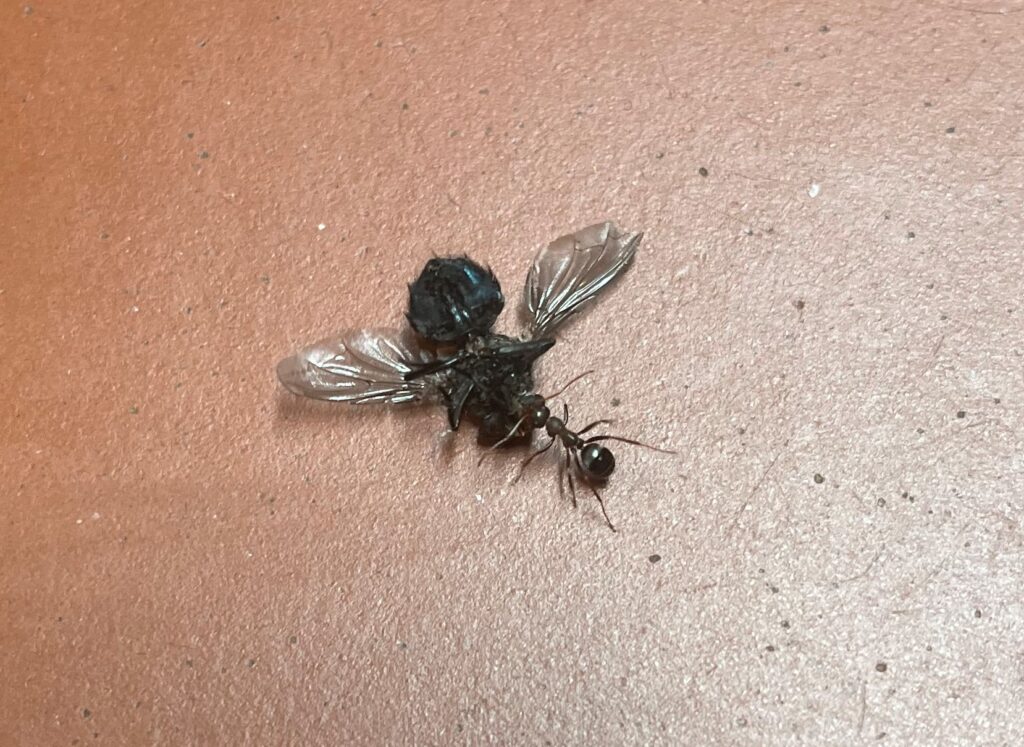 I was filled with awe. Again, a fellow inhabitant of this planet was at work, carrying out a mission, the details of which I couldn't understand, but the commitment, the determination, the belief that was the best use of its short life — that I could definitely relate to. I talked to the little laborer, as I did the flower, expressing admiration, and asked permission to take his (or her) picture.
I know I will remember that exchange for a long time, as I have the conversation with the flower. Small moments, tiny creatures, insignificant by many measures, can be just as awesome as the big, flashy ones. It just takes a sharp eye and the willingness to think small. And come to think of it, connecting on an intimate level with another species so far from our own feels…huge.