We lost a special friend this fall. Nicky Garoffalo was 64 years old and lived in Utrera, Spain, south of Sevilla, with his sister Maria and her husband Pepe. Nicky had Downs Syndrome and lived a full and rich life, touching many lives and leaving us all the better for knowing him. If you know others with Downs Syndrome, this will probably have special meaning for you; if not, I hope that it will open your eyes to what you are missing!
Nicky was born in Albuquerque, which is where my husband Roberto met him. They became fast friends and hung out together, two guys in their 20s, cruising Albuquerque in whatever pickup Roberto had at the time. One of the bonuses for me when I met Roberto was gaining Nicky's friendship, too.
There were challenges, of course, for Nicky and his family. Albuquerque was not able (or willing?) to provide meaningful support for them. Nicky was robbed at a bus stop, taken advantage of by some drug dealers, and had no real way to contribute to society. Widowed, his mother moved to Spain, believing that the culture and society were better equipped to accept and support her and her son. She was right. It was a great move for Nicky.
They lived in an ancient house in the Albayzin neighborhood of Granada. Nicky took his curiosity and gregariousness to the narrow, cobblestoned streets and made many friends in local bars, cafes, and shops. He had an amazing ability to read people – I guess we would call it emotional intelligence – and he used that talent to connect and make relationships. He knew who was uncomfortable or fearful in his presence, and knew when to let someone alone and when to offer a big smile and kind word.
Nicky was fascinated with the tourists, particularly the Japanese, who came with cameras around their necks in the early 2000's to Granada and snapped pictures of everything. He desperately wanted a camera, and when his sister found one for him (minus film) he spent his days, roaming the neighborhood "taking pictures," especially of people. He never seemed to wonder where the actual picture was. For him, it was a natural way of being in the world and making friends.
After his mother died, he moved to Utrera to live with his sister's family. There he had a wonderful "school" down the street that provided day care and activities for mentally challenged of all ages. We visited Nicky there and were blown away by the happiness and kindness that filled the place. My memory is of bright sunshine inside and outside, although in reality it may have been a dark and rainy day. The staff were loving and were loved in return. The "students" had all kinds of activities, including music, dance and art. They wove scarves and placemats which they sold. We received a picture one year of Nicky and his friends, all beaming, in Roman attire – togas, wreaths, etc. – celebrating the Ides of March.
Nicky walked to and from school, about six blocks, by himself, and on the way home he stopped at his favorite bars for a coke and a tapa or two. He was always greeted warmly, given a seat at the bar with the other guys, and included in the conversation. (Nicky was bi-lingual.) Finally, Maria had to ask the barkeeps along his route to cut down on the tapas – he was putting on too much weight!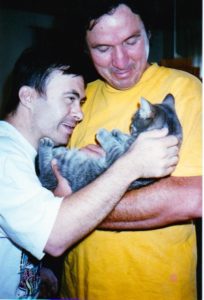 We were in Spain in October and stopped to see Maria and Pepe. It was a sad time, full of tears, but also laughter and lots of memories. Maria remembered a time in Albuquerque when she had to take Nicky to the courthouse to have the judge re-certify his disability. They exited the elevator on the third floor and faced a prisoner in handcuffs with a policeman on each arm, waiting to get on. Not missing a beat, Nicky put his arms around the shackled prisoner in a warm embrace, and said he was so sorry he was having a hard time. The police, Maria laughed at the memory, were dumbfounded, looking at her and Nicky, wondering if this was some kind of escape plot. No plot, just uncontrollable compassion.
Roberto and I treasured Nicky's friendship. Roberto is particularly grateful for Nicky's lessons about living life with gusto and with appreciation. Nicky had an awareness of his relationship not just with people, but with all things, natural and human-made. He acknowledged whatever kindness was done for him with a heartfelt "thank you." And he often expressed gratitude to things around him, a beautiful sunset, a delicate flower, a comfy chair. I have seen him pick up the salt shaker, shake salt on his eggs, hold the shaker in his hand and, gazing at it fondly, say "Thank you, salt!" before replacing it carefully on the table. And he meant it. The world was a joyful place for him and he appreciated everything it had to offer. What a lesson. Thank you, Nicky!