I was at a gathering of colleagues from around the country recently. We meet once a year to catch up with each other and exchange news, both professional and personal. One member had lost his wife a few months before and spoke of the experience in detail, her courage and humor, their adult children's return home to be with her, their very special time together and her inevitable and final decline. He was emotional, of course, as were we who listened, but he was able to tell the story with control – until he talked about their friends and neighbors, old and new, and how generous they were, how they visited and supported the family in such beautiful ways. Here, he broke down. It was too much, remembering their kindness. It touched him deeply and in a different way from the experience of profound grief that infused his every cell.
I mentioned this to him, and he agreed. There is something particularly touching about "strangers" (non-family) who feel our grief and make an effort to meet us there in that sad place. Of course his friends and neighbors were not strangers; they were close and caring people. But they were not family members; they did not have to be there. I can imagine they brought food, cards, books, flowers, condolences. But their most important gift was their love and compassion. Our conversation reminded him of a visit to Israel where he saw a memorial walkway to non-Jews who helped Jewish people during the holocaust. As a Jew, when he walked between the plaques and trees planted in honor of each rescuer he was moved to tears in this same way. These were people who reached out because it was the right thing to do, the human thing to do.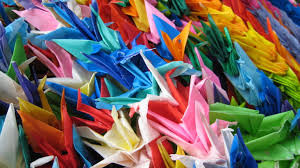 Several years ago we made a trip to Japan to visit our new in-laws. My son had married a woman from Hiroshima and we wanted to meet her family and learn a bit about her culture. Hiroshima was an emotional place for us New Mexicans, whose home state was the birthplace of the atomic bomb. Every cab driver, every waiter knew New Mexico; not one made us feel unwelcome or responsible for the devastation of their city in 1945. But we felt a special obligation to visit the Peace Park and pay our respects to the victims of the bomb. Needless to say it is a very emotional experience for any visitor, and for us it was especially powerful.
But our visit to the Museum where paper cranes are stored affected me at a deeper level. Here, I sobbed as I walked from floor to floor in the ancient bank building that had survived the blast. Each floor, each room was filled with folded origami paper cranes. They were all sizes, all colors, all materials. They hung in strings and bunches from the ceiling. They sat on shelves and in bins. They covered the windows filtering the daylight through the colors and patterns of the thousands of birds. There were millions of cranes; today ten years later there are millions more. The collection grows daily as people from all over the world – adults, children, young, old, rich, poor – send paper cranes of peace to the museum. I paused at a cluster of hanging cranes which had a letter attached. It was from a fourth grade class in Kansas, expressing their sadness at what happened to the people of Hiroshima and their hope for a peaceful world. I gasped and began to sob. These were "strangers." They were not Japanese, had no relatives in Hiroshima and probably would never go to Japan, but they were moved by the story they heard, and probably by a committed and compassionate teacher, to learn to fold origami and make dozens of cranes for the people of Hiroshima. Each collection, string, bunch and box of cranes had the same origin. Strangers reaching out, struggling to understand, offering help.
Why is this so moving? Not necessarily more moving than other sources of caring, but a stranger can touch a chord in us, a powerful chord of caring that seems to move us in a particularly deep way.
I welcome your stories of the kindness of strangers.