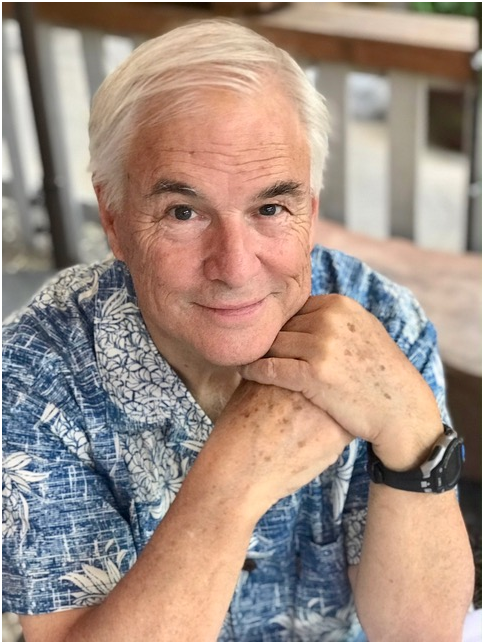 Today, Saturday, February 27, 202, was the online memorial for Lew Geer, the partner of my close friend Nancy Dahl. He and Nancy had been together 22 years, and for both of them it was – and they often said it out loud to anyone within earshot – "the love of my life." Lew died of Covid the day before Valentine's Day in the hospital in Santa Fe, alone as so many have. But blessedly Nancy was able to visit him a few days earlier. I saw a photo of her, fully suited up, sitting on the bed, and it is clear that neither her hazmat gear nor his tangle of oxygen tubes and IVs could stop the love and adoration that flowed between them.
He was 74 and was living with a treatable kind of leukemia. A recent lab workup showed that he was doing well, and could continue to live a fairly normal life. And his "normal," as I heard at the memorial today, was packed full of generosity, curiosity and fun. Of course I knew from my own friendship with him what a wonderful, loving person he was. He had lived in Japan and we sometimes carried on mock conversations in Japanese, he way better than me! In so-called retirement, he was on boards and contributed to projects that were very worthy but unlikely to attract the support needed. He took up petanque (google it!), played chess, made cherry pies, doted on children and grandchildren, and kept his many friendships well nurtured. His zest for life never waned.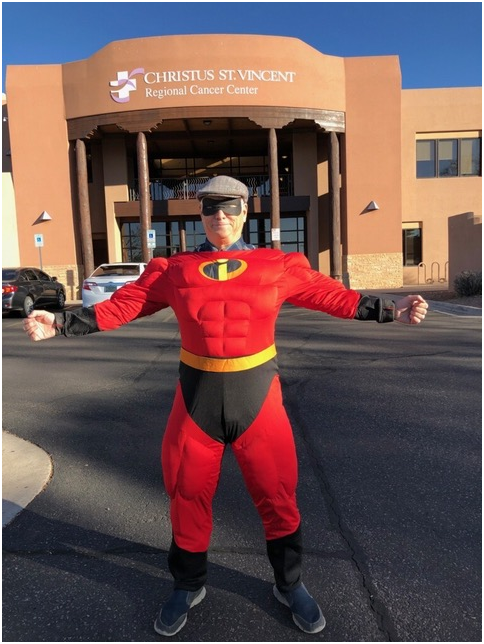 But hearing his relatives and friends tell stories revealed for me so much more. His son John, whose (handsome) resemblance to his father took my breath away, spoke first. In his beautiful and loving tribute to Lew, a father he adored, he told of moments when he recognized in himself those precious inherited gifts of humor, sensitivity and courage. I knew Lew was a devoted grandpa but to hear his granddaughter Sophie describe their relationship made it so real. He was always there for her, she said, in little and big ways. Her voice was strong and she was determined that we all know the Lew that she knew, what it felt like to be his granddaughter, recipient of so much love, so much pride and support.
And friends chimed in. I knew Lew had a wicked sense of humor, but sending a "Fart Ninja" toy to a friend for his birthday? I knew he was a devoted friend, but I didn't realize he kept in touch with many dating back to high school and college days, some of whom decided to follow him to Santa Fe. I knew he was generous – I myself had received hefty slices of his pies – but I did not know the story a middle aged man told on the screen today. Ten years ago he had lost both his jobs in one week and was destitute. Lew had taken him in, fed him, supported him, helped him get back on his feet. "I lived with Lew for a year. I was so lucky. I wouldn't be here if it weren't for Lew." The man didn't say a lot; he was overcome with emotion, remembering the kindness of Lew. Lew's definition of generosity, I realized, went way beyond a slice of pie. A close friend who had some serious health issues, told of the time that Lew gave her a ride to an appointment. When she got into his car, he turned to her and said, looking at her with those incredible eyes, straight from his heart, "You are a good person." That was all. It meant the world to her.
One of the most heartfelt thank yous came from Lew's son-in-law James who credited Lew with giving him permission to be himself, free from constraints, expectations and conventions. Lew lived that mantra and all of us near him were inspired to be our true selves, too.
And so I'm thinking about underlying conditions, and how afraid of them we are. Oh, no, heart disease, diabetes, obesity, asthma! These are weaknesses, frailties that make us more vulnerable to Covid. They are underlying conditions that threaten us.
And of course, medically speaking, Lew had one — Leukemia. But it is not fair to stop there. He had "underlying conditions" of a spectacular nature! He had the courage to be himself. He had curiosity that was insatiable. He had generosity that never quit. He had love that flowed unchecked. And he had a sense of humor worthy of a sixth grader. These are Lew's underlying conditions. Far from hiding or regretting them, he enjoyed each one to the fullest, and so did we.  So next time you hear "underlying conditions" think of all the great ones, the special ones, the ones that make us who we are, and thank Lew.