A couple of years ago I was facilitating a meeting in a conference room in a state office building. The group had gone out for lunch, but I stayed in the room and ate my fried egg sandwich, a little the worse for four hours in a sandwich bag, but still very welcome. It had been a tense morning and I relished the quiet time alone with my munching and my thoughts.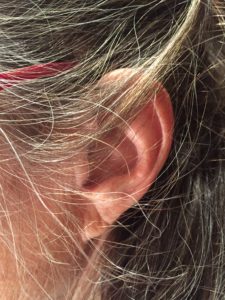 "Battery low" she said in my ear. If you wear hearing aids you know her voice. She alerts you when it is time to put in a new battery. My hearing loss began with tinnitus a few years ago and the annual tests show a downward trajectory. Thanks to hearing aids I can still work, with an occasional, "can you please repeat that?" So when she warned me the battery was low, I pulled out the package of tiny round batteries, dispensed one and fumbled to remove the adhesive tab on the back. It slipped out of my hand and onto the carpet, commercial grade with a short speckled nap. On hands and knees I searched for it. No luck. I flicked another one out and loaded it successfully into the hearing aid. Once I had tucked it into place in my ear, she reassured me, "left ear ready."  I returned to my sandwich.
Back from lunch, the group filed into the room. A young man spied something on the rug, leaned down, and held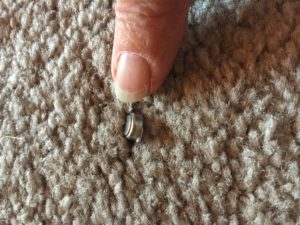 up the tiny silver disc between his thumb and forefinger. "Uh-oh," he said with a touch of glee, "This looks like a hearing aid battery! Anyone missing it?" He was met with a chorus of "Eh?" "What'd you say?" "Speak up, Sonny!" and much laughter.
There I was, sitting right next to him. No one imagined that the battery was related to me. I debated with myself. Should I fess up? I could say it jauntily: "Yep, that would be mine." Or I could say it somberly:  "I'd appreciate having it back. Thank you," and put out my hand. I tested scenarios, and in the end I couldn't do it. I smiled and turned to my notes and waited for the gaiety to quiet down.
I was ashamed. I didn't want the group to know that I wore hearing aids. And since then I have been ashamed that I didn't own my disability and perhaps do a little educating of an ignorant group. Had I spoken up, they might have thought, "Wow, I didn't know someone like Lucy wore hearing aids." They might have been a little more circumspect, a little more restrained next time there was the opportunity to have a laugh about a disability.
I realize that unless I fight back, I am part of the problem, an accomplice in the exploitation of those with hearing loss. So I am here to declare my hearing loss and give all you hearing readers some insights. Even if a disability is not immediately discernible it is still a challenge, and when we are dealing with challenges, hidden or evident, we can begin to feel shame, isolation and a lack of worth.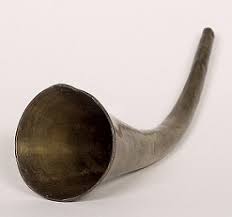 For many hearing people, it seems that hearing loss is inherently funny. The jokes abound. It is open season on the elderly who make foolish mistakes, thinking they heard "She has the fleas," when it was actually, "Please pass the peas." We may not hear a phone's ring tone or a microwave beeping, and go about our business unaware that a spouse is calling to ask us to pick up a bottle of wine, or that the coffee you warmed in the morning is desperately calling to you that it is ready. In social situations at some point it becomes easier to withdraw, pretend you heard the joke that everyone is laughing at rather than ask "What did he say?" or "What's so funny?"  From there it is a slippery slope. You accept the role of bystander, watching the chatter go by, catching some of it, wondering about the rest of it.
You can ask your spouse later, "Why was everyone laughing when the waiter brought the fish course?" I am lucky to have a husband who is sympathetic and supportive, which I know is not always easy. It can be frustrating having to explain the joke I missed or what that character in the movie was whispering about. My husband has to remember, or be reminded, to speak up even if I am just on the other side of the kitchen table, and we've learned that starting a conversation from another room will never work. We've both had to make adjustments to keep that communication flowing and not fall into frustration (for him) and depression (for me).
I was thinking today that other disabilities are not the butt of amusement. If I had broken my right arm and it was in a sling, I doubt anyone would chuckle while extending a hand to shake, or hand me a peanut butter jar and ask me to open it. Instead, I would probably get a sympathetic, maybe even empathetic, look.  I know it's different; the sling would announce the disability, and I am walking around, disability invisible. But still I don't think I've ever heard chuckling or mocking about broken arms…or legs, or brain tumors, or blindness, or cancer. And if you have, I don't want to hear about it. I'm not looking for equal mockery; I'm looking for equal respect.
I also have to admit that maybe I am ultra sensitive because this is my disability. Those with other disabilities undoubtedly have longer lists of affronts and insensitivities than mine. So, my message is simple:  be grateful for the good health that you have and be sensitive to disabilities whether they show or not.
And one more observation: These cultural norms run deep. I was at a luncheon recently and an author said that she was going to do a reading at a nursing home. There was a murmur around the table. I could feel it coming on…someone was going to say it. Without hesitating, I took the very role that I have been criticizing, and quipped, "You better read loud!" Everyone had a good chuckle, at my invitation….and at my own expense. All I can say is that I am a work in progress.