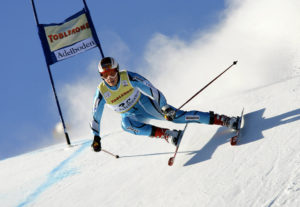 Imagine this. Two ten-year old boys, sitting at a laptop screen watching hotshot skiers on YouTube racing down the mountain, in and out of slalom poles, leaping around every turn, poles stabbing the air, snow flying in their wake. Nothing could be more thrilling, glamorous and seductive for these two who live in the Philippines in the heart of Manila, one of the densest, hottest, muggiest and flattest places on the planet.
Now imagine these boys have convinced their parents to take them somewhere to ski over Christmas break. Yes, their dad is my son and I am the grandma, and so they came to Santa Fe.
We headed to the ski basin early one morning, the boys outfitted in ski pants, parkas, gloves, hats, and most important – goggles, which they were sure they would need to keep that powder out of their eyes as they whizzed down the hill. Just like those hotshots on YouTube.  Their instructor John was a retired Marine Corps Captain whose personality was a perfect fit for his new students. He walked them through the basics of falling, getting up and taking skis off and putting them back on. Then they were ready for the slopes! I followed along in my snow boots as they waddled off to the walking sidewalk – a conveyor belt that took them to the top of the beginners' slope. When they stepped on the belt and began creeping up the hill I walked along side them, complimenting them on their conveyor-belt-riding style.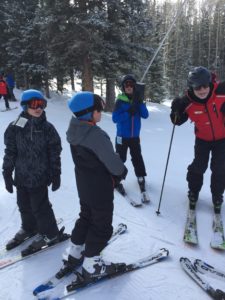 Once at the top they learned how to go fast and how to slow down by doing a snow plow. And then came the big moment. John shouted "OK, boys, let's go!" and headed down the very gentle slope. The boys adjusted their goggles and did a little stamping of the skis, as I'm sure they had seen the pros do on YouTube, and then shoved off, reaching a top speed of about one-tenth of a mile an hour. I shadowed them off to the side, walking down the hill, careful not to go too fast or I would beat them to the bottom. Of course there were tumbles and struggles to get upright again. There were wet gloves and cold toes but they pressed on.
They repeated this round trip several times and by lunch time they had learned how to turn and were looking pretty competent. After lunch John asked if they wanted to ride a chairlift. Well, of course they did! Just like the guys on YouTube. With more adjusting of the goggles, stamping of the skis, and a few deep breaths, they plopped themselves on the chairlift and swung skyward, waving to me below.  In a while they appeared, little dots of color coming down the hill, making wide loopy turns, maybe reaching one mile an hour before snowplowing to a stop.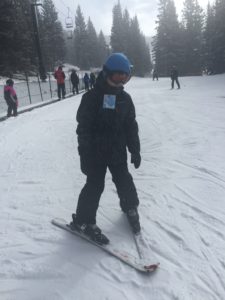 It was a totally successful day. The boys had wanted to ski and they were skiing. They had imagined themselves rocketing down steep slopes like those YouTube hotshots, and I had feared that they would be disappointed that they never exceeded one mile an hour, never leaped in the air as they made a turn, never made the snow fly as they skidded to a stop at the bottom of the hill. But with a look of complete satisfaction, they carefully moved their goggles to the tops of their heads (mimicking the post-run move of the hotshots) and carried their skis back to the rental counter, chattering, "Skiing is great!" "Let's do it again!"
How envious I am! To have a vision of the best performance, to set out to "do that, too," and to be so satisfied with your own performance, so full of pride and joy in the experience, without a trace of disappointment, disillusionment, or self-consciousness. How natural it would be to compare yourself to that pro, or even to others on the slope around you, to know that you fell short, way short. How easy to make excuses for not meeting those expectations. How tempting to give up on skiing. "It was harder than I thought," "I don't think it's for me," "It wasn't that much fun," and other rationalizations.
Where does it come from? That willingness to drop all comparisons and judgment. That ability to fully enjoy the moment and yourself in it. Do you have to be ten years old? I hope not because, as far from ten years old as I am, I want to believe that my ten-year old self is in there dying to try something new.