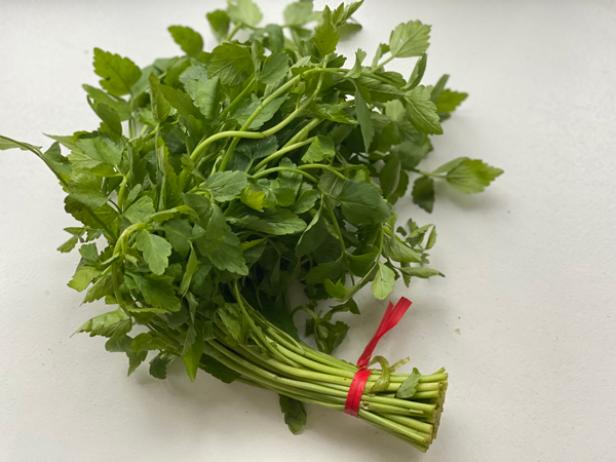 I saw the film Minari the other night and was moved for many reasons. It's a beautifully told story, but one aspect of it hit me particularly hard.
The set up of the film is this: an immigrant Korean family of four begins a new life raising Korean vegetables on their own piece of rich, brown farmland in Arkansas. What's your first thought? Mine was: "Wow, this is not going to go well. Those rural Arkansas folks are going to make their lives miserable. The poor struggling immigrants may survive or they may not but this will be a movie about racism and the deep divides in America today. How could it be anything else?"
What a surprise I got. This is a movie about a couple, Jacob and Monica, who fight a lot, and loudly, inside their small mobile home, upsetting their children, David 5 and Anne 10. The farm is Jacob's dream, not shared by his wife who wants to be closer to friends, church, and a hospital, in case David's heart defect becomes a crisis, which it could at any moment. They are on the verge of splitting up, when a very unconventional grandma arrives from Korea, providing both help and a new source of stress. This could be any family anywhere, right?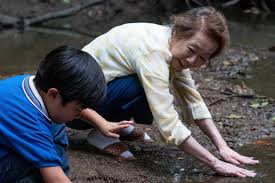 But what about the inhospitable Arkansan bigots that I was so sure were there? The family joins a church in the closest town and the preacher welcomes them, asking them to stand and be recognized. Of course, the Yi family looks very different from the rest of the congregation and all eyes are on them with curiosity. But there is not one unwelcoming look or word, except for a curious boy, maybe 8 years old, who after the service asks David why is face is so flat. David pauses and says "it isn't" and runs away toward the refreshment table. Aha, I think, here it comes, the beginning of the racist theme. But the older boy follows David and his next words are "Do you want come to my house to play?" Thus begins a friendship between the families.
And then there is the local veteran Jacob hires to help on the farm. When he comes over to apply for the job he looks at Jacob and says, "Korean?" Jacob nods and the vet steps back a few paces still staring. OK, I think, this is it. Bigotry is around the corner. "I was in Korea," he says, "fought in the war." Jacob's face betrays apprehension about what might come next. The vet pauses and then goes on, beaming. "I knew it! We were meant to be together! Praise the Lord," and he grabs Jacob's arm with a kind of manly affection. He turns out to be a mediocre helper and a little unbalanced, but a good and loyal friend.
This is simply a movie about a family struggling to stay together while meeting everyone's needs. This is the story of so many in this country. Just because the family is Korean in Arkansas does not mean it is about being Korean or being Arkansan. It is simply about being human in a strange land. So, why is this newsworthy for me? Because sadly, it is so unexpected.
We are impacted daily by the escalating conflicts and violence around race. We are trapped in the political divide that pits us against each other and feeds our mutual fear and scorn. We are conditioned to be alert, on guard, when confronted with difference. We dig in and let those feelings of fear, anxiety, and maybe hate take over. So, when I entered the world of Minari and found nothing to feed those assumptions, I was shocked. And my own surprise at the absence of racial strife where I knew it had to exist, was a revelation to me. I, too, was locked into the myth that this is the defining feature of each of us and the driving force of our relationships.
My hope is that someday, sooner rather than later, our cultural landscape will shift and my assumptions will shift as well. I will walk into a movie, open to experiencing a story of our common human condition, which may include struggle, conflict, and high emotion stemming from a variety of causes, not necessarily race.
The boy in church sees a different kind of face, asks about it and quickly moves on to seeing David as a potential playmate. May we all find that potential in each other.
And one last thing. My apologies to Arkansans for my (former) bias, and my gratitude to Minari for spotlighting it for me so clearly.