This month saw several updates I want to share with you. You will see links to the previous posts, which hopefully you can click on. (I am cautiously proud of my ability to imbed links…holding my breath.)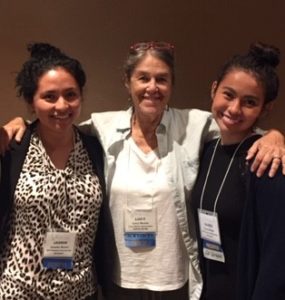 Mentoring: Picture a convention of mediators. It is a very accommodating crowd, to the point of absurdity at times. A group of us stand in the lobby of the hotel, ready to go to dinner. Where shall we go? Oh, how many vegetarians do we have? Is pork a problem? What about lactose intolerant? We could do seafood, but perhaps someone is from Seattle and would like something else? Tacos are good, and can be gluten free? At some point I want to scream, "I'm going for pizza, dammit! Who's with me?" But it is all worth it. These are my people, my fellow seekers of peace, my tribe, and I treasure each and every one. And among them this year were two young women whom I am mentoring: Jasmin Munoz and Raven Pinto. I was the proudest of mentors as I watched them each present their recent work.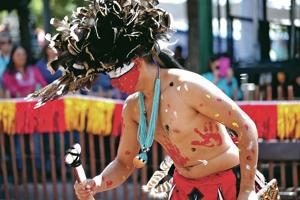 Entrada Celebration: Early September saw the Santa Fe Fiesta roll out without a hitch. In previous years Native Americans and others had protested the re-enactment of the "peaceful reconquest" of Santa Fe by the conquistadors in 1692. Two years ago, Regis Pecos began a quiet and powerful mediation process with the parties which resulted in replacing the entrada re-enactment with a celebration of community unity. This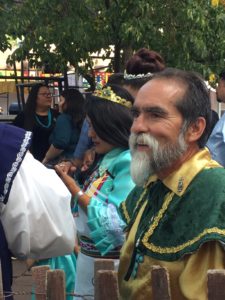 year's event was truly inspiring. There were moving remarks by all the parties, honoring a common (and not always peaceful) history, and acknowledging the central role of faith (Catholic, Indigenous, Jewish, and more) in the multi-cultural community in northern New Mexico. Young Pueblo performers offered centuries-old dances, followed by Hispanic dances with twirling skirts, music, and festivities. I was so impressed with the deep and genuine commitment to community, to caring for each other, and honoring each other's differences. It was remarkable. Regis stood quietly on the stage. He must have felt very gratified.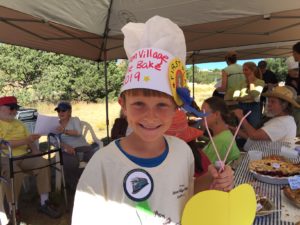 Pie Bake: Not as old as the Santa Fe Fiesta, but in its 39th year, our neighborhood Pie Bake, went off without a hitch. The crowd was smaller, and a couple of neighbors were moving slow, but the pies were awesome as usual, the enthusiasm high, and the winners beaming.
Snake revisited: Many years ago I had an encounter with a snake that shook me to my bones. It was pink and huge and well….you can read about it. Yesterday on a gorgeous fall walk, look who was across my path. It surprised me and I uttered an unprintable word, and then calmed down. It was quite beautiful, and seemed thick in the middle, probably digesting breakfast in a sunny spot. I carefully walked around it, hoping that it forgave my epithet.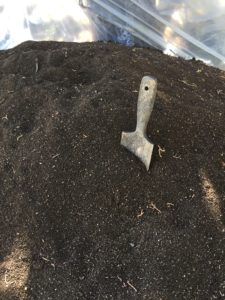 Dirt: For months the compost pile looked like a random collection of garbage, sprinkled with horse manure and straw, and in fact that is exactly what it was. Then this month we dug deep and sifted through a coarse screen, and behold! Beautiful, rich, yummy dirt.
Bruiser: September saw the passing of our feral cat Bruiser. He had been with us for over 10 years, and was probably in his late teens. We pampered him as much as one can pamper a wild thing. He had dry food on demand, and regular treats of tuna and salmon and a certain organic roasted chicken that we bought for ourselves but were careful to save a good portion for Bruiser. He always made it clear that he was doing us a favor by hanging around, and as he began to fail, getting thinner and weaker, I was afraid he would go off into the wild and die. I know that is the wild way, but I really wanted to know when and how he died and not just have him disappear. He stopped eating and drinking water and moved shakily from sun to shade to sun in our patio. One evening he was lying on our door mat and I sat a few feet away and told him he was a good and noble cat and I thanked him for living with us. After all those years of hissing at me, avoiding my touch, acting as if I were the enemy, he died quietly in the night on our door mat.